Way cleared for Council to publish explosion report
The way has been cleared for the publication of a report into an explosion which ripped through City Hall more than four years ago, after the settlement of a legal action for personal injuries by a Council employee.
The City Council learned from the Galway City Tribune this week that the High Court action has been settled, and the employee received a payment in the region of €40,000.
The explosion – understood to have been caused by a boiler in the building – caused an estimated €400,000 in damage.
A spokesperson for the Council said this week that the local authority has not been made aware of any settlement by its insurers, but confirmed that the Chief Executive will present a report on the investigation into the explosion once legal matters are settled.
The explosion occurred on the morning of June 11, 2010 shortly before most staff arrived for work, and shattered windows as well as causing extensive damage to the offices on the ground floor of City Hall.
It also travelled up stairwells and caused damage to the upper floor of the building.
At the time, Council officials hailed it as a miracle that nobody was killed or seriously injured in the incident, which took place at around 7.50am.
One worker took a personal injuries action against the Council and was awarded almost €40,000.
"As the Chief Executive did indicate, subject to [legal] issues being dealt with, he will revert to councillors with a report on all issues around the incident," the Council spokesperson said.
Two years ago, the Director of Public Prosecutions decided not to prosecute in relation to the case, following the submission of a report by the Health & Safety Authority to the DPP's office.
The show goes on . . . for the 183rd time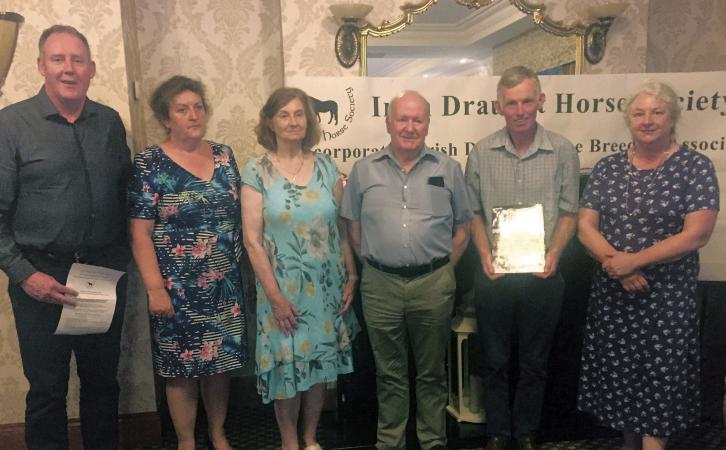 JOHN HARNEY from Mountpleasant first joined the Ballinasloe Horse and Agriculture Show Committee, all of 60-years ago, on April 24, 1962. Both John and the show are still going strong as they celebrate their 183rd event on this Sunday. Here, he looks back on his involvement with this iconic show through the years.
THE Ballinasloe Show back in the early 1960s was going well with both the Showgrounds and Duggan Park both used for running the competitions.
My first introduction to the show was stewarding the pony competitions in the Mountpleasant end of the Duggan Park with the rest of the GAA field being used for trade stands.
At that time, it was a very big show with horses, ponies, cattle and sheep, pigs and fowl – also there was a big garden and farm produce section as well as a home craft and baking section with flowers and plants supported by a very large women's committee.
At that time, showjumping took place in the afternoon with the top riders in the country taking part.  I was elected Chairman at the AGM in 1975, a position I held for ten years.
During that time, the Duggan Park Committee approached the Show Committee for a piece of the showgrounds behind the GAA Stand for dressing rooms.
This was brought up a number of times at our committee meetings, and at first, the view was that the Duggan Park Committee would buy the ground.
However, after much deliberation it was decided by the Show Committee to 'give the ground' for the sum of £1 with the proviso that the dressingrooms could be used on show days by the local ICA to do catering for the event.
For more, read this week's Connacht Tribune.
Connacht Tribune Digital Edition App
Download the Connacht Tribune Digital Edition App to access to Galway's best-selling newspaper.
Click HERE to download it for iPhone and iPad from Apple's App Store, or HERE to get the Android Version from Google Play.
Or purchase the Digital Edition for PC, Mac or Laptop from Pagesuite  HERE.
Get the Connacht Tribune Live app
The Connacht Tribune Live app is the home of everything that is happening in Galway City and county. It's completely FREE and features all the latest news, sport and information on what's on in your area. Click HERE to download it for iPhone and iPad from Apple's App Store, or HERE to get the Android Version from Google Play.
Waste transfer station row set for High Court showdown
A final decision on a proposed waste transfer station for Ballinasloe will be hammered out in the High Court in around three months' time.
Galway County Council has granted licences for a waste transfer station at the old Poolboy dump site, but these have been successfully appealed by a local campaign group.
The latest licence issued by the County Council is also the subject of a judicial review and this application is now for hearing before the High Court in October.
It is widely expected that this will end the 'toing and froing' between the Ballinasloe Says No campaign group and Galway County Council, who are footing a substantial bill for the legal challenges so far.
The old dump in Ballinasloe closed more than 20 years ago and it had been hoped locally that the site would be rehabilitated for community use – as opposed to having another waste facility located there.
However, Galway County Council have been issuing licences to Barna Waste for a waste transfer station which has sparked fears that the town will be inundated with heavy trucks on a daily basis.
This is the third occasion that the Ballinasloe Says No campaign has challenged the issuing of the waste transfer licences by Galway County Council and are hoping that this will be the last.
The proceedings being taken by the group will ultimately result in a decision being made in the High Court.
Chairperson Dr Vincent Parsons said that they were committed to fight for health, safety and the protection of the environment around the Suck River Callows which was a Special Protection Area under EU law.
"It is shocking that Galway County Council Executive have decided to grant this permit despite the unsuitability of this site and associated risks. Thousands of objections have submitted from people in the Ballinasloe area.
"The decision by Galway County Council to grant a permit was quashed by High Court orders on two previous occasions.
"But despite all this Galway County Council have granted another permit for a major waste facility in Ballinasloe showing total disregard for the people of town and surrounding area," he said.
Dr Parsons added that independent expert ecology, hydrology and engineering assessments and reports had confirmed the unsuitability of this site and the substantial risks to health.
Meanwhile, Senator Aisling Dolan said that the campaign was largely to prevent to hundreds of trucks passing by local schools, playgrounds, estates and Portiuncula Hospital.
"Thousands of families in Ballinasloe made submissions and attended public meetings making it clear that this is an inappropriate location for a waste transfer station
"This is a major issue for families living in Ballinasloe and we are a local community group who are fighting this case. I want to thank people for their support for the town.
"Together with our legal team, we are challenging this decision by Galway County Council to grant this permit to operate a waste transfer station," Sen Dolan added.
Photo: Vincent Parsons (Chairperson) and Senator Aisling Dolan (PRO) of the Ballinasloe Says No campaign pictured at the gateway to the proposed waste transfer site in Poolboy, Ballinasloe.
Supply chain challenges in retail
SPONSORED CONTENT  – EZ LIVING FURNITURE
There has been a huge demand for consumer products in 2020 and 2021. Covid-19 has resulted in people spending more time at home than ever before. Lockdown especially saw all non-essential workers previously confined to their homes. Investing in goods such as clothing, electronics and furniture was one of the few ways that people could spend their discretionary income from the comfort of their own homes. However, this major spike in consumer purchasing is only one of many challenges that the retail industry is currently facing.
Every retailer and consumer across the globe is being affected by rising costs and frustrating delivery delays and this, unfortunately, includes us –  EZ Living Furniture. As Ireland's most loved and well-known furniture retailer, we wanted to help our customers understand the issues the entire retail industry is currently facing and will continue to face for some time by outlining the order fulfilment process to you.
Supply Chain explained
March 2020:
Many suppliers (including EZ Living Furniture) source their products from overseas. When Covid-19 first struck in the Far East in March 2020, illness and a lessened workforce lead to a dramatic decrease in production. When those countries entered lockdown, supply stopped coming from the Far East entirely.
April 2020:
When these countries began to recover and started to exit lockdown, Europe, unfortunately, went into lockdown. Because we were unable to sell stock to the same capacity, we stopped ordering from these countries.
June 2020:
Customers began ordering products again, but only online as all of the physical stores in Europe were closed. It took us, and many other European businesses a number of weeks to come to terms with the new working from home arrangements and the redirection of resources towards the increase in online sales that occurred subsequently.
November 2020:
Product manufacturers and raw material manufacturers in Europe were still closed due to the pandemic. This meant materials and products were not being produced in Europe at all.
This caused major issues with supply and production. For instance, foam is one of many materials used to make mattresses, dining chairs, and sofas. When this is in short supply, so too is the furniture that uses foam.
Hospitals around the globe began ordering thousands of containers of PPE. With no warehouses to store these essential healthcare items, they remained in the containers at ports. This lead to congestions at ports and a shortage of shipping containers worldwide.
Shipping ports closed due to the outbreak of Covid-19 in ports.
March 2021:
The Suez Canal was blocked by a container vessel for six days. This put further strain on supply chains that were already burdened by the coronavirus pandemic.
October 2021:
We are still continuing to suffer from the lack of containers. This is causing a rise in transportation and raw material costs. Deliveries to customers are also now taking longer than usual.
What are we doing to resolve this?
Stores like us are working even harder to ensure that customers receive the same products in the same time frame and at the same price-point that was in place before the pandemic. Any solution to this supply chain problem is not perfect. Prioritising faster delivery will inevitably lead to higher costs while focusing on lowering product prices will inevitably delay delivery times.
Alternatives and long-term solutions are being explored such as supply chains in eastern Europe. However, this is a time-consuming process primarily due to quality control and logistics.
What you need to know
Already this year, we have had to increase our stock levels to try to compensate for any future delivery delays. Until now, we have been absorbing the increases in transportation costs and raw materials in order to continue to offer our customers such a wide range of furnishings.
Unfortunately, due to the prolonged nature of the pandemic, stock is going to be limited, especially during certain holiday periods. Prices may also have to be increased again in the future with smaller companies likely to be affected to an even greater degree. We want to be completely transparent with our customers and make you all aware that our promotions listed below may be the last chance for you all to purchase EZ Living Furniture items at such low prices.
So, don't wait to buy that EZ Living Furniture Item you have been eyeing and prioritise our in-stock items. The products available in all retail stores now could sell out and take a long time to return to stock. Shipping delay issues could also mean you are waiting months to receive your items.
The EZ Living Octoberfest Promotion – October 2021.
The EZ Living Furniture Black Friday Sale – November 2021.
Although we are uncertain as to how long these global supply-chain issues will last, we aim to keep you updated at all times. We appreciate your patience during these unprecedented times.
For any queries regarding your order, please contact our Customer Service team by phone, email or live chat:
Monday – Friday 9:30am – 5:00pm
Phone: 0818 222 272
Customer Service Email: customerservice@ezliving.ie
Website Enquiries Email: websales@ezlivingfurniture.ie
SPONSORED CONTENT  – EZ LIVING FURNITURE