The EU unites to combat our common enemy: COVID-19
Ireland, Europe and the world are living through an unprecedented crisis. We are facing an invisible enemy and a daunting common challenge. If there is one clear lesson from the past weeks, it is that the more closely and effectively we work together in Europe, the quicker we will defeat coronavirus. Joint action saves lives, limits the economic damage and prepares us for as rapid a recovery as possible. The European Commission is pulling out all the stops to achieve this.
While national governments are in the driving seat in taking immediate action within their own countries to address the pandemic, the EU has a big role to play in helping governments to coordinate their policies. For example, when some Member States closed their borders in mid-March in their initial response to the crisis, the European Commission stepped in to establish 'green lanes' to keep goods flowing, supermarket shelves stocked and vital components reaching factories.
The EU has done a lot more to address the wide-ranging challenges posed by COVID-19. Just before Easter, EU finance ministers agreed a €540 billion package to support member states, companies and workers hit by the crisis.  The Commission made the state aid rules more flexible than ever before so that businesses big and small can get the support they need. The budgetary rules were relaxed to allow national and EU spending to go quickly to those that need it. This has enabled EU institutions and Member States put up €2.8 trillion to fight the crisis – the strongest response anywhere in the world.
Through an initiative called SURE, the EU is working to ensure that people can keep their jobs and their incomes and businesses stay afloat while we are in lockdown. The scheme will provide €100 billion to help governments make up the difference if a company, especially SMEs, has had to reduce hours for its employees.
Since the early days of the crisis, the Commission is deeply concerned with ensuring food security and an effective food supply chain across the continent. The Commission adopted quick measures in support of the agri-food sector – extending deadlines for CAP applications, increasing admissible support for individual farms and providing new lines for financing of food producing and food processing companies.
Ultimately, the development, production and deployment of a vaccine is vital in the COVID-19 battle. The Commission has therefore reoriented existing research priorities and is making new funding available to this end. It has mobilised €140 million to finance vaccine research, making € 80 million available to Cure Vac, a global leader in this field. Seventeen other vaccine-related projects are being supporting, including Dublin-based Hibergene Diagnostics.
The Commission prepared a common tender for EU Member States to help secure equipment to protect frontline health care workers and provide their patients with the best possible care under the circumstances. As we all know, frontline workers sacrifice the most in our fight against the coronavirus, including healthcare workers caring for patients, and all workers who contribute to combating the spread of the virus and keeping essential services running. We owe them all our most sincere thanks.
More than €200,000 worth of cannabis seized in East Galway
More than €200,000 worth of cannabis was seized in during two separate search operations in East Galway on Saturday.
Gardai from the Divisional Drugs Unit conducted a search at a residence in Aughrim and seized cannabis plants with an estimated street value of €146,000 and €20,000 worth of cannabis herb which will now be sent for analysis.
Two men (both in their 30s) were arrested at the scene in connection with the investigation and are currently detained at Galway Garda station under Section 2 of the Criminal Justice (Drug Trafficking) Act, 1996.  Both men remain in custody.
A separate search was carried out at a residence in Ballinasloe yesterday afternoon and cannabis herb with an estimated street value of €35,000 was seized. Cannabis jellies and €7,510 in cash were also seized.
A man in his 40s was arrested and later released without charge and a file will be prepared for the Director of Public Prosecutions.
Joint move by Galway councils to Crown Square ruled out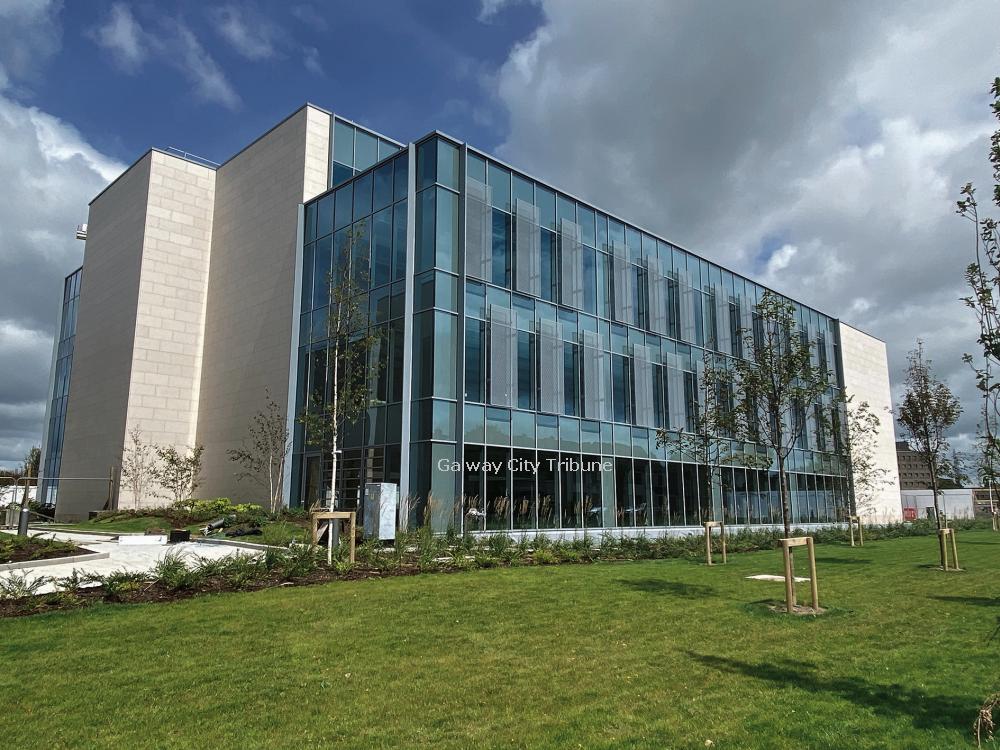 A senior Department of Housing official floated the idea of Galway County Council workers moving to Galway City Council's newly-acquired Crown Square office building if a merger of the two local authorities was to proceed.
However, he was told the proposed merger of Galway's two councils was not being pursued "at this stage", and that it "should not be a consideration" when deliberating on the City Council's application to the Department for a €45.5m loan approval to buy the offices in Mervue, on the eastern side of the city.
The discussion was contained in internal communications between officials in the Department of Housing and Local Government who were discussing Galway City Council's loan sanction application. It was released to the Connacht Tribune under Freedom of Information (FOI).
Gary McGuinn, the Department's Assistant Principal Officer for Local Government Governance and Elected Members – in a comprehensive memo about the Council's loan application – raised the prospect of what would happen if a merger between the two councils proceeded.
"Over the years there have been merger proposals for Galway City Council and Galway County Council. These proposals ultimately never advanced but I believe that there has been incrementally closer coordination between both executives.
"Galway is now something of a holdout given that mergers have taken place in Limerick and Waterford, while the boundary issue was settled in Cork by extending it to encompass the city suburbs and outlying districts.
"Both Galway City Council and Galway County Council have office premises in Galway city centre. On a purely speculative note, one could ponder what would happen to the new City Hall building that they want to borrow to fund if there is an eventual merger?
"Possibly it would become the HQ for a 'Galway Metropolitan District' structure within a single 'City and County' type local authority. As there is no such proposal at this time though it's probably not something that can be asked about or planned for," Mr McGuinn said to his colleague, Tim Nuttall, an official in the Department's Local Government Finance section.
His views were forwarded to another section within the Department of Housing last September, just before Minister Darragh O'Brien sanctioned the loan application last September.
In response, another civil servant in the Department of Housing, Áinle Ní Bhriain, said: "I can confirm there are no plans to pursue a merger of Galway City Council and Galway County Council, which was approved by Government in 2018, at this stage, and therefore should not be a consideration in relation to this loan."
Chief Executive of Galway City Council, Brendan McGrath, confirmed two days before Christmas Eve last year, that the deal to buy the property from JJ Rhatigan was complete.
City Council workers are due to move to the new building by the end of this year.
In its loan application, the City Council said its College Road site, built 40 years ago, and refurbished and extended in the 2000s, had a number of "challenges".
These included "limited capacity for additional headcount, lack of facilities within current infrastructure, building standard compliance and meeting our existing building climate targets for 2030".
It pointed out to the Department that it leases two buildings in the city centre, to accommodate staff as well as City Hall, and buying Crown Square "will address the challenges outlined in the most efficient and cost-effective way and release our current City Hall, city centre site for regeneration".
Hotel sector's plea to retain lower VAT rate
With overseas visitors down more than a quarter and increases of 300% in energy bills compared to before the pandemic, now is not the time to hike VAT rates for hospitality.
That is the plea from the chairperson of the Galway branch of the Irish Hotels Federation (IHF), John Ryan, who is urging the Government to keep the 9% VAT rate for the tourism and hospitality sectors indefinitely.
The Government delayed the introduction of a 13.5% rate until March 1 at a cost of €250 million to help the sector get back on its feet after Covid.
Minister for Public Expenditure Paschal Donohue referred to price gouging in hotels over the summer as one of the key reasons he was upping the rate.
Minister for Tourism, Culture, Arts, Gaeltacht, Sport and Media Catherine Martin last week stated that it was no secret she had sought the retention of the 9% rate in negotiations for the 2023 Budget and "will continue to seek it".
The lobby group for small to medium business, ISME, has called for the reduced VAT rate to be brought in for the entire services sector.
The owner of the Ardilaun Hotel in Taylor's Hill said the average price of a hotel room was €167 last year. With 4,000 rooms in Dublin booked out to accommodate refugees, the price of the remaining stock was at a premium.
"You could find a couple of examples all over the country where people were charging unfair prices and were wrong. There were a few serious spikes – maybe 1% of overall accommodation stock in Dublin did that. If I was a customer I wouldn't pay it," Mr Ryan said.
"But they shouldn't penalise the entire sector because of that 1%. The 9% is the right one. We would be the same as other countries where tourism is a key industry. If we went up to 13.5%, we'd be the second highest after Denmark.
"We couldn't absorb that. We have already contracted our foreign business for 2024/25 – we'd have to go out and tell suppliers we are putting up rates. That's just not on."
With almost all key tourism markets experiencing a cost-of-living crisis, the last thing the industry can cope with is a tax jump.
Of 27 EU countries, the VAT rate on accommodation is 9% or lower in 16 countries.
Tourism supports 22,000 jobs throughout Galway, generating €910 million in tourism revenues annually for the local economy.
Last year the average room occupancy levels were 69% for the West, just 1% lower than national rates. Over the same period in 2019, however, room occupancy was at 78% nationally.
This is largely due to a shortfall in overseas visitors to Ireland, with numbers still down more than 25% last year compared to 2019.
A recent survey found that hotels and guesthouses were reporting reduced levels of forward bookings compared to the same time in 2019.
Some 57% report reduced bookings from Great Britain, 48% say bookings are down from Northern Ireland, while 37% record fewer bookings from the rest of Europe. US bookings are down 41%.