Manning makes his senior bow
Ryan Manning made his senior international debut for the Republic of Ireland on Wednesday night when the former Cregmore/Claregalway, Mervue United, and Galway United man started for Stephen Kenny's side in the scoreless draw with Bulgaria in the UEFA Nations League.
Manning was a late addition to the squad for the final two Nations League group games, against Wales in Cardiff last Sunday, and the clash with Bulgaria on Wednesday. He was an unused substitute on Sunday, but with more players withdrawing from the Irish squad after that game, Manning shot up the pecking order and was handed a start on Wednesday night.
He performed well, though his debut was marked by a yellow card for a foul on Spas Delev in the 21st minute. His recent lack of game time showed at the end, with his night ending in the 86th minute due to cramp, but that won't take away from the pride at representing his country at senior level for the first time.
His first cap sees him join Eamonn Deacy (RIP), Alan Lee, Greg Cunningham, David Forde, Daryl Horgan, and Aaron Connolly as Galwegians to have played men's senior international side
He was one of two Galwegians that started against Bulgaria, with Daryl Horgan also in the starting XI for the game. His night ended early, being the first Irish player called ashore by Kenny when he was replaced by Josh Cullen in the 67th minute.
The former Salthill Devon man also started in the 1-0 defeat to Wales on Sunday, when he was also the first player to be replaced, this time with Jason Knight taking his place in the 59th minute.
For more, read this week's Galway City Tribune.
Get the Connacht Tribune Live app
The Connacht Tribune Live app is the home of everything that is happening in Galway City and county. It's completely FREE and features all the latest news, sport and information on what's on in your area. Click HERE to download it for iPhone and iPad from Apple's App Store, or HERE to get the Android Version from Google Play.
'Furore' over rezoning plan for access to B&B on Headford Road in Galway
From the Galway City Tribune – Councillors have voted to rezone a small section of Terryland Forest Park from recreational and amenity use to residential.
A majority of elected members also approved the insertion of a specific objective into the new Galway City Development Plan 2023-29 that would allow an entrance to the site through Sandyvale Lawn.
This was to facilitate safe access to a home and B&B business off Headford Road, which had become dangerous due to the recent changeover of Kirwan roundabout to a traffic lights junction.
Residents of Sandyvale Lawn, a 100+ housing estate off Headford Road, had objected to the proposals, and so too had Tuatha Terryland Forest Park, an alliance of volunteers and organisations.
The Office of Planning Regulator (OPR) and Chief Executive of Galway City Council, Brendan McGrath, as well as his planning department and recreational and amenity department, had all objected to the changes.
The rezoning, and insertion of a specific objective to facilitate an entrance to the estate, was contained in the same material alteration that came before councillors, but they were obliged to vote on them separately.
Several councillors argued that a new entrance to Sandyvale Lawn was necessary to facilitate safe access to a B&B on Headford Road.
---
This article first appeared in the print edition of the Galway City Tribune. You can support our journalism by subscribing to the Galway City Tribune HERE. A one-year digital subscription costs just €89.00. The print edition is in shops every Friday.
---
Cllr Mike Crowe (FF) said the family who owned this business and home had been treated poorly by the City Council during the reconfiguration of the Kirwan roundabout to a signalised junction.
Referencing the large opposition to the proposal, he said the "furore over this is astounding" and argued the impact on green space and the Sandyvale Lawn estate would be minimal.
Cllr Crowe said the proposal was about creating a safe exit and entrance.
Cllr Frank Fahy (FG) said there had been a number of near misses of cars coming in and out of the B&B, which were captured on video.
He said the current system, whereby an amber traffic light allows access to the B&B was "haphazard and dangerous". He feared there would be a fatality if a new entrance was not approved.
"I don't like to rezone RA [Recreational & Amenity] land but in this situation we don't have a choice. We have to remedy a dangerous situation," Cllr Fahy said.
Cllr Colette Connolly (Ind) said RA land was "absolutely sacrosanct" and she would not vote to rezone.
She asked what the legal position was regarding a rezoning of green space, which residents claimed had been paid for through a green levy applied 40 years ago when the estate was built.
Cllr Owen Hanley (Soc Dem) said he had voted initially to include the material alteration to support the B&B owners, as the removal of the roundabout had made access more dangerous for them.
But he said he would now support the residents of Sandyvale Lawn who had opposed the change.
Cllr Declan McDonnell said the family had lived there for 50 years and now it was more dangerous accessing their home through no fault of their own.
He said it was not safe that they have to enter and exit their home on an amber flashing light.
In a submission, residents of Sandyvale Lawn said the new entrance would negatively impact their estate, by increasing traffic, noise and an addition risk to children playing. They said it could be turned into another rat run like Ballinfoile and Tirellan. They also argued against the loss of green space.
Submissions also objected to the loss of the green space which was part of Terryland Forest Park, dubbed the 'lungs of the city'.
Mr McGrath asked councillors not to rezone the land and not to insert the specific objective for a new entrance.
Both changes, however, were approved. The RA to R rezoning passed by a 12-5 vote and the specific objective for a new entrance passed by 11-5.
Renters paying €12,000 more per annum in Galway City than ten years ago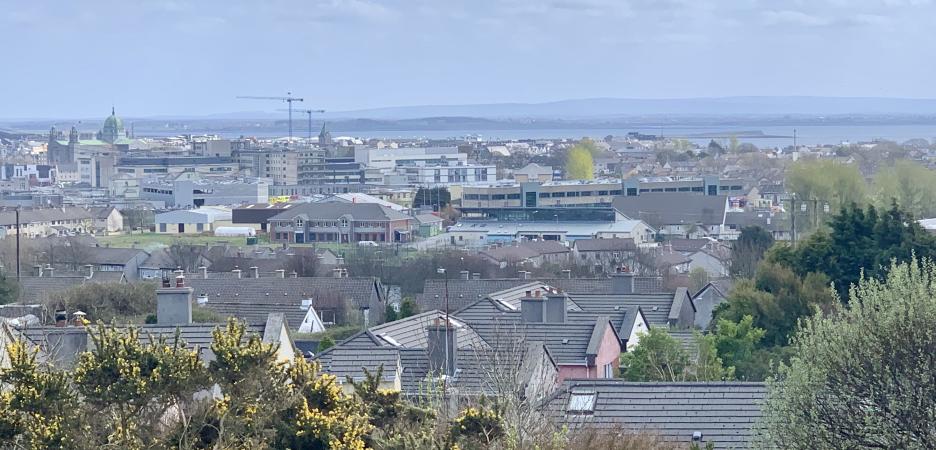 People living in private rented accommodation in Galway City are paying, on average, around €12,000 more per annum than they were a decade ago.
New research from property website Daft.ie has found that in the past year, average rents in the city have increased by 16.4% and now stand at €1,713 per month.
Meanwhile, the Dáil was told last week that the situation in the rental market in the city is "horrendous".
According to the figures published this week, rents in the city have increased by a whopping 145% since the bottom of the market in early 2012, when they stood at an average of around €700 per month.
Nationally, the increase was 14.1% year on year, or 4.3% between June and September (the figure was 3% for Galway City).
Economist Ronan Lyons of Daft.ie said that the last ten quarterly reports from the website have recorded new all-time highs for average rents.
He said that in the past 18 months, there has been an "extraordinary collapse" in the stock available to rent in Ireland.
Speaking at the Oireachtas Select Committee on Finance last week, Galway West TD Mairéad Farrell said Sinn Féin had long been calling for tax credits, but these needed to be in tandem with a freeze on rents.
"My concern is that if the Government does not introduce a rent freeze, this measure will put further pressure on families and individuals who are struggling to pay for their accommodation. Many renters feel there is no end or hope in sight. To be perfectly honest, I have never seen the housing crisis in Galway as bad as it is now.
"Galway is the place I can best reference and there is little rental property available in Galway. There is concern that this will add to the pressure that people are already facing if a rent freeze is not also introduced," she said.
Finance Minister Paschal Donohoe responded that in the Budget he had announced a €500 rent credit, specifically for those who do not receive other housing supports from the State.
"I also acknowledge that too many people are paying too much of their income in rent," he said.
The Minister added that in Berlin, where rent freezes were imposed, the volume of new rental accommodation available had decreased, and he contended the same would happen in Ireland.
Deputy Farrell said: "Myself and the woman who works with me in my local office are at our wits' end. Today we had a conversation about how to tell people coming to us that the council can do nothing because there are no rental properties and there is nowhere for people to go.
"That is a position that we have not seen ourselves in since I was elected. I am talking about the period since 2014. Things are getting worse."
According to the Daft.ie report, average monthly rents for a one-bed apartment in Galway City stand at €1,142 (up 15% year on year); €1,333 for a two-bed house (up 13.7%); €1,594 for a three-bed house (up 16.2%); €1,948 for a four-bed (up 17.7%) and €1,959 for a five-bed (up 2.7%).
For the 'rent a room' renters, a single bedroom in the city centre is costing an average of €572 per month (up 15.1% year on year) and €617 for a double room (up 13.4%). In the suburbs, single bedrooms and renting for €533 per month (up 20.3%) and €593 for a double (up 22.5%).
Minister deploys high-level 'rescue' team to help University Hospital Galway
From this week's Galway City Tribune – Health Minister Stephen Donnelly has deployed a high-level National Support Team to help crisis-stricken University Hospital Galway
Ann Cosgrove, Chief Operating Officer of the Saolta University Healthcare Group – which operates UHG and Merlin Park – confirmed this week that the 'rescue' team was in place to tackle overcrowding and delays at the Emergency Department.
Membership of the support team includes at least seven high-level HSE managers, including a hospital consultant.
The team has already met with local staff in charge of patient flow, discharges, bed management and unscheduled care. They will write up an action plan to improve the patient experience, she said.
The hospital has implemented a targeted intervention plan over the past few months to reduce the number of patients on trolleys while awaiting admission to a bed, focusing on timely diagnostics and decision making and the timely discharge of patients.
To achieve this, the hospital had been approved to recruit seven patient flow coordinators, one "data analyst for the acute floor" and one medical social worker.
Management are also in talks to increase bed capacity with the Galway Clinic and the Bon Secours private hospitals.
This is a shortened preview version of this story. To read the rest of the article, and support our journalism, see the November 25 edition of the Galway City Tribune. There is also extensive coverage this week of plans for a new cancer Centre of Excellence and the latest meeting of the Regional Health Forum West. You can buy a digital edition HERE.