Jobs hopes dashed at Oranmore IDA biopharma lands
Hopes that IDA Ireland had lured a multinational company to its business park in Oranmore have been dashed.
The IDA invited tenders this week to carry out improvement works at its strategic 67-acre site at Oranmore off the N18.
This ignited hopes locally that the IDA had sourced a significant international pharmaceutical company to set up a new base in Oranmore.
However, a spokesperson for the IDA said it hasn't found a tenant for the site, and the proposed refurbishment works aren't in anticipation of a new company setting up there.
"I've checked with our Property Division and have been advised that these are routine upgrading works," an IDA spokesperson said in a statement to the Connacht Tribune.
The Oranmore site is fully serviced, landscaped and has planning permission for a significant biopharmaceutical manufacturing campus. The IDA said it is ready for immediate occupation.
The IDA said the refurbishment works to be carried out on the site include the installation of new railing and support posts; remedial works to existing stone paving; removal of existing cycleway surfacing and laying of new anti-skid material; installation of new bark chippings; general maintenance works, landscaping and minor electrical works.
Galway West TD Noel Grealish (Independent) said: "It would be great for Oranmore if there were to be a new industry moving into the IDA lands now, but I'm hopeful that the IDA will attract new employment there soon. I got a commitment in relation to the Oranmore site before the summer at a meeting I had in Dublin with the IDA's Chief Executive Martin Shanahan and his senior officials.
"They have agreed to treat the Oranmore lands as an extension of Parkmore and any new industry coming to Galway will be located in Oranmore. This would be a big boost to the people of Oranmore, most of whom travel to employments outside the area every day.
"It would also be good for all those who have to commute to work in Parkmore every day — you have 10,000 people doing that every day facing big problems with traffic hold-ups, and really the traffic problem will have to be sorted there before any further industry goes in."
Deputy Grealish said that there were 67 acres of IDA lands available for new industry in Oranmore, officially known as the Oranmore Science and Technology Park.
"While people's hopes may have been raised by the publication of the IDA notice seeking tenders for the works there, I suppose it's important that they do keep on top of this routine upgrading and maintenance to make sure the area is ready if a suitable investor is found," he added.
Teen drug mule caught with €44,000 worth of cocaine
A County Galway teenager caught with almost €44,000 worth of cocaine in a garda surveillance operation has learned "a serious, serious lesson".
At Galway Circuit Criminal Court, Judge Brian O'Callaghan imposed a 120-hour community service order on the 17 year-old-boy, who cannot be named because of his age.
At the 'in camera' hearing, Judge O'Callaghan told the teen, who was accompanied in court by his parents, that only for his guilty plea, he would have been subjected to a period of detention.
"You're lucky you're not going into detention", he said.
The teenager pleaded guilty to possession of cocaine for sale or supply at a time when the aggregate market value of the drugs amounted to €13,000 or more.
The offence relates to a seizure of drugs near Dunlo Harbour in Ballinasloe on September 19, 2021.
The offence, which is contrary to section 15 (A) of the Misuse of Drugs Act carries a mandatory minimum 10-year prison sentence.
However, prosecuting counsel, Conall MacCarthy BL, told the court the 10-year minimum sentence does not apply to persons under the age of 18.
Counsel said the determination of sentence is "entirely within the gift of the court" and the imposition of a custodial sentence on a minor "should be a last resort".
In evidence, Sergeant Eoin Fox said a "stash" of suspected cocaine was discovered in a disused yard near the town.
The court heard a surveillance operation was put in place and at approximately 5.02pm on the day of the offence, the accused was seen claiming over a wall.
Sgt Fox said the boy put on latex gloves and retrieved a lunch box.
The sergeant confirmed to Mr MacCarthy that the box contained six sandwich bags of cocaine. The drugs were later valued at €43,449. The teenager has no previous convictions.
Defence barrister, Bernard Madden SC, told the court his client was a keen sportsman who started to hang around with "negative influences" after taking up alcohol and cannabis.
The court heard the boy claimed he took responsibility for a drug debt of a few hundred euro and was targeted as a drug mule.
However, Mr Madden said the probation officer was of the view that for the accused to have become embroiled in the drug trade to such an extent at such a young age was "far-fetched and unlikely".
"A more unlikely drug mule I could not think of", counsel added.
Counsel said his client has the full support of his family, has re-engaged in education and attended all meetings with the his probation officer.
Judge O'Callaghan said offences of this kind would usually attract a custodial sentence.
But he said the accused's guilty plea at the earliest opportunity "opened doors that would not have been available to this court had he not done it".
The judge also commended the accused for severing links with his former peer group.
"You have a serious, serious lesson learned. A most unlikely drug mule you could not meet is how Mr Madden described you and that is supported by the probation officer," he said, imposing the community service order.
Galway County Council exploring plans for old Tuam fire station
Galway County Council has given a commitment to come up with an action plan for the old fire station in Tuam which has now been vacant from more than four years.
There have been calls from various public representatives that it be developed for community use or utilised for artistic purposes.
The local authority has come under fire in the past over the number of unoccupied public buildings in Tuam – which also includes the Town Hall and the old courthouse.
The matter came up for discussion at a meeting of Galway County Council when Director of Services Liam Hanrahan gave an undertaking to give consideration for the development of this old fire station which became vacant in late 2018.
And Mr Hanrahan also confirmed that the old fire station in Loughrea would also be looked at along with the old courthouse in Portumna as part of a regeneration project.
The matter was raised by Cllr Donagh Killilea (FF) who said that the provision of the new state-of-the-art fire station at Milltown Road in Tuam was welcome, it also created another headache.
He said that when Galway County Council create a new premises for the emergency services, for example, they should have a plan in place to utilise the building they were vacating.
"Of course it is essential that the emergency have the most up to date facilities but it is also unacceptable that the Council have no plans for a prime building that is now left empty.
"When the Council are embarking on the provision of a new building, it should be done in tandem with their intentions for the building that is being left idle rather than seeing it fall into dilapidation and vandalism," said Cllr Killilea.
Since its closure, it has even been suggested that the old fire station be transformed into residential accommodation for the elderly given its location close to the town centre.
The old fire station in Tuam was closed as it was felt that, given its location at High Street in the town, the response times to emergencies were compromised by traffic congestion.
Now, the new fire station is located on the N17 and has immediate access to the Tuam bypass and motorway.
Since its closure, there have been suggestions that the Council make it available to local community or artistic groups or even as an enterprise centre for small start-up businesses.
However, Galway County Council have given an undertaking to come up with an action plan for the building and extensive grounds. It will be raised at the next meeting of the local authority.
Prison officers threatened during by violent hospital patient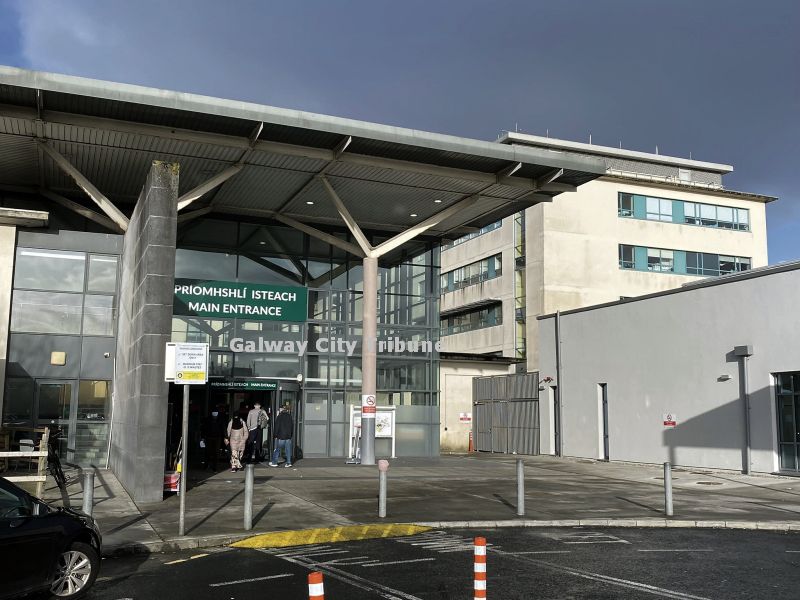 A prisoner who told a prison officer he would cut "chunks out of her cheeks" and told her colleague he would have his wife and children raped has been sentenced to three and half years in prison.
At Galway Circuit Criminal Court, Judge Brian O'Callaghan described the behaviour of Michael Cleary (34) at University Hospital Galway over a number days in October 2013 as "continuous, aggressive and violent".
Cleary, with an address at Lough Mask Road, Ballinrobe, Co Mayo, pleaded guilty to one count of threatening to kill or cause serious harm to a female prison officer on October 20, 2013 and a further count of threatening to kill or cause serious harm to a male colleague, on October 15, 2013.
Both officers were on duty in the hospital ward, where Cleary was receiving treatment for TB.
Garda Andrew O'Hara told the court Cleary said to one of the officers he would "burn down his house and torture and rape his wife and children".
Cleary also told the officer his face would be slashed open in Castlerea Prison and that his wish was to transmit TB to the officer.
Garda O'Hara said Cleary also bit the officer on the arm.
"He said he had never experienced such pain before", the garda added.
Cleary also said he prayed the officer would die in a car crash.
The court heard that when this threat was put to him interview, Cleary said that would make him laugh. Over a number of days, Cleary subjected the female officer to aggressive behaviour and numerous threats of violence.
Garda O'Hara said Cleary told the officer he was going to "get a carving knife and cut chunks out of her face".
As he was being taken for a cigarette, Cleary told the woman he would get four lads in a stolen car to wait outside for her.
Garda O'Hara said the officer did not know if this was true and was accompanied to her car by a colleague that night.
Due to her level of concern, she stayed in Galway that night and did not return to her home, the court heard.
On another occasion, Cleary told the officer he was going to break her teeth and smash her face.
He also lunged at the officer and attempted to assault her.
Garda O'Hara said: "He kept shouting he was going to break her teeth and bite the smirk of her face".
In her victim statement, the prison officer said the Cleary's violent and aggressive behaviour has affected her quality of life.
She said feels "ill at ease", not safe and has become introverted.
The threats made it impossible for her to continue to work in Castlerea Prison and she requested a transfer.
Garda O'Hara said the other prison officer declined to make a statement and is trying to put the incident behind him.
Cleary had 108 criminal convictions, 95 of which were committed prior to the 2013 offences. These include convictions for theft, criminal damage and assault. He is currently serving a separate prison sentence for false imprisonment.
The court heard Cleary was due to be sentenced in January 2017 for the threats against the prison officers, but absconded to England.
Defence counsel, Garry McDonald BL, told the court he had been instructed to apologise to the victims. Cleary had attempted to apologise to the officers through their colleagues. At the time of the incident, Cleary had been remanded in custody but was brought to hospital after being diagnosed with TB.
"At the time, he had serious difficulties with drugs and alcohol, more so drugs and had lost his son prior to this," he added.
Counsel said that language and threats used by his client were "horrendous" and something no person should be subjected to at their place of work.
"What he said to them was totally uncalled for," counsel said.
Judge O'Callaghan said the two victims were not the only victims, as other people in the hospital had to witness Cleary's "appalling conduct".
The judge said it had been suggested the accused's behaviour occurred while he was coming down off recreational drugs and taking medication for TB.
However, Judge O'Callaghan said the court is proceeding on the basis there is no evidence to support this. He said the two victims were subjected to prolonged aggression and threats.
It was an aggravating factor that the threats were made to two good standing members of the Irish Prison Services.
"His actions were wholly and completely unprovoked," he added.
The judge said the threats against the female officer were "particularly aggressive and very threatening with very worrying undertones involved from her point of view".
He said there was no evidence of rehabilitation, but the accused entered an early guilty plea.
Judge O'Callaghan imposed sentences of three and half years and two years to be served concurrently.