Jail for brute who struck his ex with screwdriver
A man has been sentenced to a total of thirteen months in prison for assaulting his now ex-partner with a screwdriver.
Martin Ward (46), 8 The Guard House, Mainguard Street, appeared in custody before Galway District Court where he pleaded guilty to assaulting Susan Waters, causing her harm on January 18 last and to using a screw driver while assaulting Ms Waters on the same date.
The court heard the couple had a drunken argument and Ward assaulted his now ex-partner, using a screwdriver to inflict injuries.
Defence solicitor, Brian Gilmartin said Ward had a serious alcohol addiction coupled with consequent anger management issues and he was remorseful.  He said his client had been held in custody since his arrest on January 20 last.
Photographs of Ms Water's injuries, along with a medical report, were handed into court.
Judge Mary Fahy said the photographs showed the significant physical injuries the victim had suffered, but she said she also wanted to hear about the psychological problems, if any, Ms Waters had suffered as a result of the attack.
Ms Waters shook as she went into the witness box. She tended to blame herself for Ward's predicament. She told Judge Fahy she had a drink problem herself and she apologised to Ward for putting him through this.
Judge Fahy assured her the accused would not have found himself before the court if he had not assaulted her.
"But he did assault you and he used a screwdriver to injure your head," the Judge said, referring to the photographs.
"I wanted to die that night. I'm sorry. I feel bad. He's a good man," Ms Waters said, shaking.
Judge Fahy said the best advice she could give the victim was to get counselling to try and move on with her life.
"This violence is not acceptable in any set of circumstances, but particularly with regard to a woman who is vulnerable.
"He has difficulties, but he should not have used brute force to attack her," Judge Fahy said.
Inspector Mick Dwyer said Ward had 19 previous convictions, including two for seriously assaulting his then wife, for which he had received a seven-year sentence in July 2010, in the Circuit Criminal Court.
He said Ward was also given a suspended three-year sentence in March 2007, for another serious assault.
"'What is commonly used as the euphemism 'domestic violence'  is, in fact, serious criminal assault and this man has 'form' for it," Judge Fahy observed.
The judge said Ward had been given chances in the past when he received suspended sentences for similar offences, but he had not availed of services to help him deal with his problems.
If he had, he would not be back before the court now, she said.
The judge said that while Ms Waters' physical injuries would fade, there was no doubt her psychological problems would not.
Noting the maximum sentence that could be imposed for a Section 3 assault was twelve months, Judge Fahy said she was obliged to give Ward credit for his plea and so she imposed a ten-month sentence for that.
She imposed a consecutive three-month sentence on Ward for assaulting the woman with the screwdriver, backdating the sentences to January 20, when he went into custody.
SuperValu parent company takes ownership of Knocknacarra landbank
From the Galway City Tribune – The company behind the SuperValu supermarket chain has taken ownership of a significant landbank between Knocknacarra and Kingston.
Cedarglade Ltd, which is a subsidiary of Musgraves, has listed itself as the owner of almost 14 acres of land off the Western Distributor Road.
Part of that site was previously the subject of a proposal for a €30 million shopping complex which was turned down by planners – the 'Kingston Cross' scheme was to be anchored by Tesco and sports retail giant Decathlon.
The Musgrave Group is expected to draw up plans for a major development on the site.
In a planning application currently before Galway City Council, Cedarglade Ltd – a Musgrave Group subsidiary which operates the SuperValu and Centra brands – has sought permission to retain existing and erect new security fencing around the lands for a period of three years.
---
This article first appeared in the print edition of the Galway City Tribune. You can support our journalism by subscribing to the Galway City Tribune HERE. A one-year digital subscription costs just €89.00. The print edition is in shops every Friday.
---
According to the application, the fencing is being provided to secure the landbank – which sits on the opposite side of the Western Distributor Road to Aldi and Lidl – for health and safety reasons. Cedarglade has declared itself as owner of the lands in the planning application.
An Bord Pleanála refused permission last year for a €30 million shopping complex on part of the lands, ruling that it would be "deficient and substandard in quality".
1 Kingston Cross Ltd, which is ultimately owned by Alanis Capital and the US vulture fund Oaktree Capital, told the Planning Appeals Board they received a "hostile reception" to their proposals, and accused Galway City Council of resisting any form of development on the lands. The Kingston Cross company owned the lands at the time, and still owns Gateway Shopping Park on the opposite side of the Western Distributor Road.
A spokesperson for the Musgrave Group had not responded to queries from the Galway City Tribune at the time of publication.
Musgraves also own brands such as Daybreak, Mace, La Rousse Foods, Donnybrook Fair, Frank and Honest Coffee, and employs more than 41,000 people across 1,000 stores in Ireland, Northern Ireland and Spain. Last year, the company acquired the iconic McCambridges business on Shop Street in Galway.
€11m fit-out for new City Hall in Galway will go to tender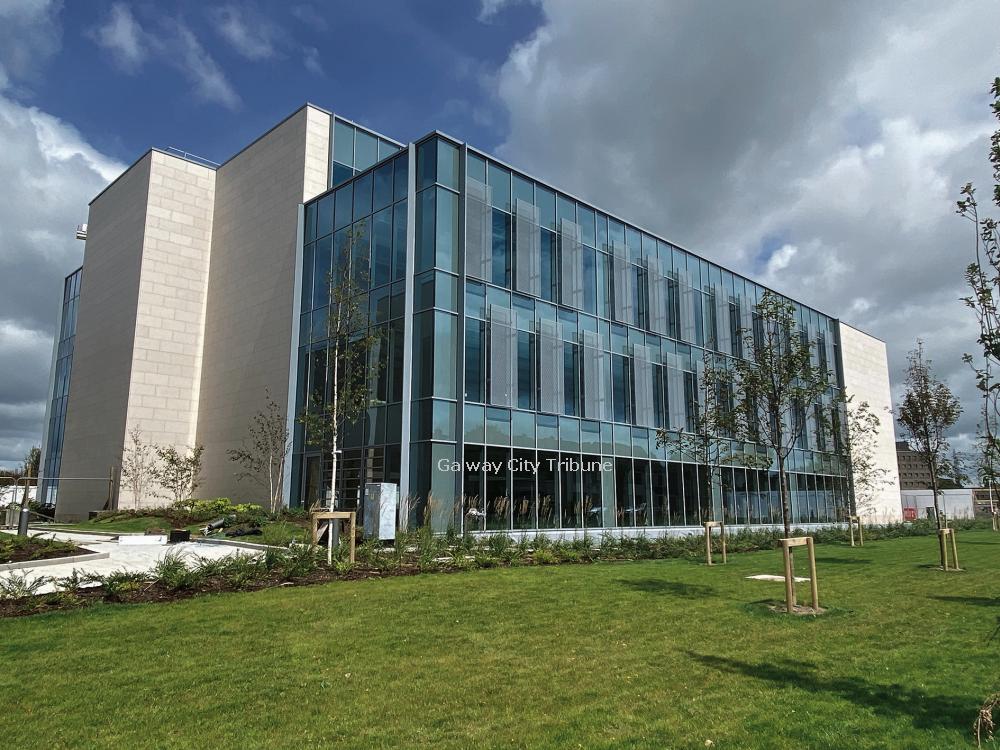 From the Galway City Tribune – A competitive process will be used to employ building contractors to carry out an €11m fit-out of the new City Hall at Crown Square, it has been confirmed.
The purchase of the offices in Mervue by Galway City Council last year did not go through a public procurement process.
And the local authority did not invite public expressions of interest from property owners or landowners who would be interested in supplying a new Council headquarters.
But a spokesperson has confirmed to the Galway City Tribune that the contract to fit out the new building will go through a public procurement process, as is the legal requirement.
Tenders will be invited later this year.
"We have appointed a project management consultant and formed an internal working group, who are leading the design of the internal fit-out and co-ordination of the project – including consultation with staff, councillors and unions," she said.
"Once the design has been agreed and signed off, the fit-out works will be tendered via a public procurement process. From then timelines will be agreed for the fit out, which will be dependent on the specifications of the design and supply chains for materials," the Council statement added.
According to European Union law, the purchase of a building by public agencies is not legally required to go through a public procurement process, but works such as fitting out are.
There is a specific exclusion to Article 10 of the relevant EU Directive of the European Parliament and the Council of 26, on public procurement.
---
This article first appeared in the print edition of the Galway City Tribune. You can support our journalism by subscribing to the Galway City Tribune HERE. A one-year digital subscription costs just €89.00. The print edition is in shops every Friday.
---
It states: "This Directive shall not apply to public service contracts for: (a) the acquisition or rental, by whatever financial means, of land, existing buildings or other immovable property or concerning rights thereon".
At the July 2022 City Council meeting, where councillors agreed to borrow €45.5m to buy the Crown Square building shell, the then Chief Executive of Galway City Council, Brendan McGrath confirmed it had not been put out to tender.
He was replying to Councillor John Connolly (FF) who said he was a member of the HSE West Regional Forum, which had invited public expressions of interest for a new hospital site for Galway, despite already owning a large tract of land at Merlin Park.
Cllr Connolly wondered why the Council did not have to go through a similar procurement and tendering process.
"If it is the councillors' wish to go out to procurement, I'll do it, but it could delay it [the move to Mervue]," he said last July.
Mr McGrath added: "That's not a threat, that's the reality."
Director of Services, Patrick Greene, when pressed about the procurement issue, said that Acon consultancy had given an independent assessment of the options.
Contractors will compete for the €11m fit-out job when it goes to tender.
Meanwhile, trade union sources at City Hall have confirmed to the Galway City Tribune that they have yet to be consulted about the proposed move which was due to happen by January 2024.
"We've been told nothing. We're reading about it in the paper," said one trade union source.
Taxi driver in Galway jailed for sexual assault on passenger
From the Galway City Tribune – A taxi driver who sexually assaulted a sleeping passenger has received an 18-month prison sentence.
The female victim woke up in the back of the taxi to 45-year-old Francis Oseghale (45) on top of her, Galway Circuit Criminal Court heard.
In her victim impact statement, the woman said: "It was truly the most terrifying ordeal I have ever gone through."
Oseghale, with an address at Cartur Mór, Knocknacarra, pleaded guilty to sexual assault in the city on July 15, 2018.
The court heard Oseghale no longer drives a taxi and his licence was taken away shortly after the incident.
Judge Brian O'Callaghan said the granting of a public licence brings with it a "very strong responsibility and sense of duty".
The judge said thankfully, the majority of taxi drivers "go beyond" that duty to protect the interests of the public whether they are customers or not.
"This man clearly broke all the rules and tore up the rule book into shreds insofar as it applies to how taxi drivers should behave towards their patrons.
"This despicable matter in which he took advantage of this young lady in his taxi, it is very troubling to put it mildly," he added.
In evidence, Garda Colm Harlowe told prosecuting counsel Geri Silke BL, that Oseghale picked up the victim and other passengers on Bridge Street on the night of July 15, 2018.
The court heard the journey to the victim's then home in Westside would normally take 15 minutes, but took one hour and five minutes after the other passengers were dropped off first.
---
This article first appeared in the print edition of the Galway City Tribune. You can support our journalism by subscribing to the Galway City Tribune HERE. A one-year digital subscription costs just €89.00. The print edition is in shops every Friday.
---
Garda Harlowe said the woman fell asleep in the back of the taxi and woke up near her home with the driver on top of her and his hand on her breast.
The woman pretended to be asleep in the hope the assault would stop.
The court heard the woman reported the incident to her sister and was examined at University Hospital Galway.
Garda Harlowe said DNA evidence and CCTV from Bridge Street enabled gardaí to identify Oseghale, who had no previous convictions.
In her victim impact statement, the woman said she will never forget the fear of waking up and finding a stranger on top of her.
"I feel absolutely disgusted in my own skin," she added.
She said she was diagnosed with PTSD and prescribed anti-depressants and has moved away from Galway. She said everyone should be entitled to go on a night out and be brought home safely.
"I was sexually assaulted by someone I trusted to bring me home safely," she added.
Defence barrister Bernard Madden SC told the court his client had written a letter of apology to the woman.
Mr Madden said his client is originally of Nigerian extraction and had a good record of employment.
Counsel said his client initially had difficulty in accepting he had committed an offence, but now accepted responsibility.
A risk assessment put Oseghale at a low risk for sexual reconviction and was suitable in the long term for probation supervision.
Mr Madden said his client is no longer living with his wife as a result of "this particular escapade" and faces the prospect of losing his current accommodation.
Counsel asked the court to note his client's guilty plea and previous good record.
Judge O'Callaghan said the accused "committed a most serious and egregious offence" and "the facts speak for themselves".
He said the court noted from the psychologist's report that there was an element of "victim blaming" by the accused.
However, the judge noted that the accused later accepted that it was all his doing.
He said the aggravating factors in the case included the accused's breach of duty towards a person who was vulnerable at the time and the impact of the assault.
He told the accused a custodial sentence was "unavoidable" and imposed a three-year prison term, with the final 18 months suspended.