Huge selection of homes on offer across Galway city and county
Around 30 properties in Galway City and County will go under the hammer next month in an O'Donnellan & Joyce 'Wild Atlantic Way' auction, which will feature homes right along the Western seaboard.
Auctioneer Colm O'Donnellan said the event on July 20 will include a wide variety of properties, from family homes to investments. He described it as their "strongest and biggest" auction to date.
Among the highlights of the auction are:
9 St Mary's Terrace, Taylor's Hill, Galway. A magnificent family home in a superb location combining style and elegance, this 5-bed mid terrace townhouse is only a short stroll from the city centre. It is close to a number of excellent schools and a short walk from Salthill Prom. The Advised Minimum Value is €750,000.
24 Seamount, Threadneedle Road, Galway. A well-presented 6-bed detached home just off Salthill Prom, which measures 278 square metres. The AMV is €725,000.
69 Dalysfort Road, Salthill. A 4-bed semi with a separate apartment and large west-facing rear garden. The property has been extensively refurbished. The AMV is €475,000.
3 Pointe Boise, Salthill. A magnificent 2-bed ground floor apartment presented in excellent condition. It is bright and spacious with an open-plan living and kitchen area and has a patio with beautiful views over Galway Bay. The AMV is €250,000.
15 Lenaboy Park, Salthill. A detached family home in a sought-after location in the heart of Salthill. The AMV is €350,000.
1 Glenview House, Upper Salthill. A first floor 2-bed apartment offering 70 sq m and ample storage in a well-managed complex. The property has been modernised. The AMV is €200,000.
11 Manor Close, Kingston, Galway. A stunning 4-bed detached family home presented in an excellent condition. It benefits from a private west-facing garden with a raised patio, large storage shed and off-street parking. There is a large ground floor extension and an annex to the side.  There is also a self-contained annex to the side. The AMV is €585,000.
66 Monalee Manor, Knocknacarra, Galway. A well-maintained 4-bed semi with a private rear garden and off-street parking. The AMV is €265,000.
2 Courthouse Square, Waterside, Galway. A 5-bed city centre residence with enormous commercial potential. Opposite the courthouse, it would be suitable as solicitors' or barristers' rooms, and there is a large yard to the rear. The AMV is €350,000.
For more, read this week's Connacht Tribune.
Galway researchers work at early breast cancer detection
Identifying the genes responsible for causing breast cancer and developing newer molecular treatments are among key areas of focus for researchers at the National Breast Cancer Research Institute (NBCRI).
The charity this week launched its first three-year strategic plan at its base in the Lambe Institute at the University of Galway where chairperson Caroline Loughnane outlined the current cancer research programme.
Researchers are working on the biomarkers of response to treatment and examining newer therapies targeted to individual patients. Some are investigating the role of stem cells in breast reconstruction.
As well as contributing to major international partnerships on cancer genetics and medical devices development, staff are also running clinical trials on newer treatments, all with the aim of improving treatments and outcomes for patients.
Research conducted at the Newcastle campus such as the study of microRNAs in breast cancer and the role played by mesenchymal stem cells in tumour was having an impact nationally as well as globally, she explained.
"This research spans the continuum from bench to bedside with the aim of improving treatments and outcomes for patients," she stated.
The board of the charity has adopted six main goals under its new strategic plan. These will be monitored every three months to ensure they are progressed.
NBCRI plans to support new research through a more ambitious fundraising drive, increase the national reach of the charity and develop relationships with external collaborators.
The charity has set itself a target of increasing fundraising by one fifth over the next three years. Its big fundraisers over the years have been a combination of charity swims, walks, cycles and golf and race days, with participants donning pink while taking part.
Over the last 25 years, the charity has funded 41 full postgraduates and 102 undergraduate medicine and science students as part of the NUI Galway School of Medicine summer research programme.
It is largely funded from voluntary fundraising activities, with an annual turnover of around €1 million.
The launch heard that 33,352 people in Ireland are currently living with breast cancer. One in seven Irish women will develop breast cancer during their lifetime, making it the most common cancer among women here excluding skin cancers. Ever year around 3,542 cases are diagnosed and 760 will die from it.
That's up from 660 women who died in 1992. But when caught early, it has the highest five-year net survival rate of 85 per cent.
Headford survey reveals drop in footfall – but strong sense of community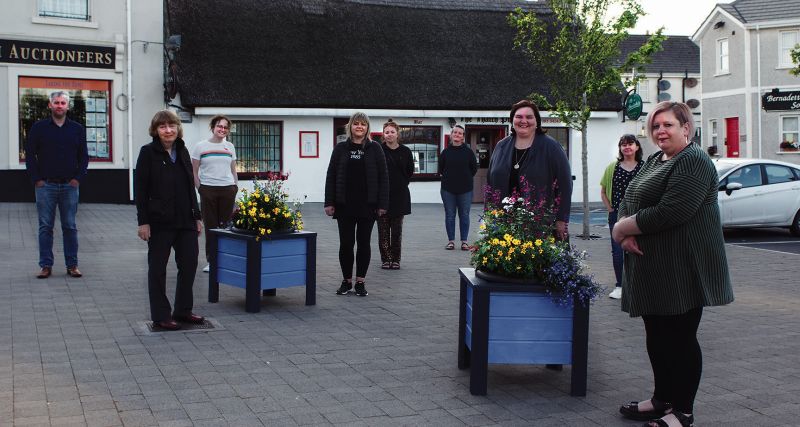 A dearth of public recreational spaces was identified as a major issue – as was the drop in footfall in the town's centre – in a survey conducted in Headford.
The Reimagine Headford Community Survey – conducted among local residents and the business community – found that almost 60% of those surveyed said that they don't regularly come into Headford.
The findings will be revealed at a meeting in The Angler's Rest Hotel next Monday, December 5.
The survey asked respondents to reveal how often they frequent the town centre, and why – as well as offering their opinion on public amenities and observations about how they would like to see the town centre change and develop.
"Clearly, there is much to love about Headford, with respondents highlighting a friendly community, nearby historical sites, sports amenities, location, and culture and music as the best things about the area," said the report.
"What's less heartening is that while almost half of survey respondents visit the town daily, only six per cent shop in the town's Main Street area (including High Street and Bridge Street) daily, and only nine per cent socialise in the same area weekly.
"In contrast, 58% of respondents stated they do not socialise in Headford very often. Taken as a whole, the survey highlights a need for the revitalisation of the town centre," the survey states.
Local Cllr Andrew Reddington (FG) said that the findings were disturbing finding and intervention was needed – as he believed that rural towns needed to be salvaged.
"The survey findings are startling and there needs to be communication between businesses in Headford and community groups in an effort to rectify the situation," he said.
"It obviously suggests that people from the area are travelling elsewhere which is not a good thing and has to be addressed," Cllr Reddington added.
Aisling Keogh of Reimagine Headford said that demise of Headford's town centre had prompted their Headford Town Team decided to organise this survey, with the support of Galway County Council.
"A concern about the demise of Headford's town centre led Headford Town Team to make their application for the programme, with the key aim of making the town a more enjoyable place to be, and a better place to live, work and visit," she said.
"Over a period of months, the team worked with architect Deirdre Greaney to consider a renewed vision for the town, which culminated in a hidden space at the heart of the town was reimagined as a public space where people could meet and spend time.
"This event was planned in response to information gathered in the Reimagine Headford Community Survey, undertaken by the team for the purposes of gathering people's thoughts and ideas on Headford town centre, and where a lack of public recreational spaces was identified as an issue for the town."
State subvention saves the day as Galway County Council passes budget
A last-minute Government subvention of €2.75 million has enabled Galway County Council to 'balance the books' in their budget for 2023 without any increase in Local Property Tax (LPT) or in rates.
Councillors voted to approve the almost €158 million budget for the local authority in the coming year with spending increases approved across a number of areas, according to Cathaoirleach, Cllr. Moegie Maher (FG).
Cllr. Maher paid a special thanks to councillors, Oireachtas members and Council officials who had made the case over recent weeks and months for a 'Galway specific' extra allocation of funding to be made.
Galway County Council Chief Executive, Jim Cullen, told Monday's budget meeting in County Hall that there had been an increase in overall central government funding of €14 million for 2023, €12m of which applied to annual payroll costs.
However, he pointed out that an additional allocation of €2.75m was 'specific to Galway County Council' but added that the local authority needed additional funding for almost all areas of expenditure.
In a report presented to the meeting by Cllr. Liam Carroll (FG), he outlined that while Budget 2023 for the Council showed an increase of over €14 million (9.8%) as compared to the 2022 figure, there was 'no getting away from the fact that Galway Co. Council continued to be grossly under-funded'.
Cllr. Carroll said that the 2023 per capita spend [based on head of population] was just €819 for Galway, as compared to €1,354 for Galway City Council; €1,286 for Mayo Co. Council; €1,236 (Kerry); €1,052 (Donegal); €1,056 (Sligo); and €1,191 (Clare).
"With a population of 192,995 [Census '21], County Galway County is 55,764 ahead of Mayo; Tipperary (+25,334), Donegal (+26,674), and Kerry (+37,737).
"However, each of those other counties far exceeded the Gross Expenditure Budgets of Galway County Council in 2022. This imbalance must be corrected as a matter of urgency," said Cllr. Carroll.
He added that only for the late allocation of €2.75m from the Dept. of Local Government, increases in housing maintenance (nearly €484,000 or 31%); almost €484,000 in community/enterprise; economic development (over €429,000) and in street cleaning (+€200,000), would not have been possible.
Cllr. Carroll said that the 'Galway specific' extra allocation had also made possible increases in library expenditure, the hiring of lifeguards and for maintenance work on piers and harbours.
Fianna Fail councillor, Ivan Canning, said that even with the extra €2.7m allocation, Galway County Council would not be better off in 2023 than they were this year, due to increasing energy costs and inflation.
Cllr. Gerry Finnerty (FF) said that he would support the budget on the basis of the extra allocation of funding that had been made. "I hope though that every year we won't have to be going back and knocking on the Minister's door for last minute funding," he said.
An amendment to the Council's 2023 Budget – proposed by Cllr. Joe Byrne (FG) and seconded by Cllr. Timmy Broderick (Ind.) – tabled to avert any increase in rates through 2023, was passed.
The Council Executive had proposed a rates increase of 6%, but Cllr. Byrne's proposal [carried by 30 votes to 7] contained a four-point provision to avoid that hike.
His proposal included a reduction in the Rate Rebate of €300,000; a reduction in Bad Debt provision of €500,000; an increase in Rent from Houses of over €254,000; an allocation of €300,000 from Rates Compensation; and a transfer of €609,000 from the Council's capital fund.
Independent North Galway Councillor, Declan Geraghty, said that any increase in rates would be unthinkable in the current economic climate. "Do you realise the pressure that shops and small businesses across towns and villages are under – get real," said Cllr. Geraghty.