Housing planning restrictions lifted on Crown Square site
Councillors have voted to accept recommendations which could see a 20% cap on residential development lifted at the former Crown Control site in Mervue.
Described by one councillor as "the biggest hole across the city", the future of the five hectare piece of land turned out to be divisive during lengthy meetings to discuss the Draft City Development Plan 2017-2023.
In their submission, joint receivers Kieran Wallace and Patrick Horkan, had sought amendments to the specific development objectives included in the previous plan.
They stated that the 20% cap (140 units) on residential development had limited the viability of the site, and they sought for this to be lifted.
They further called for a removal of restrictions on site access, which they said compromised connectivity. And, they wanted the reference to a four-storey building height restriction removed, on the grounds that there was capacity to accommodate higher buildings in less sensitive locations within the site.
City Council Chief Executive, Brendan McGrath, had recommended an amendment to the draft plan as follows: "The majority of retail floor space to be dedicated for bulky goods retailing and the balance for local retailing needs . . . parking shall be kept back from Monivea Road, and separated from the Monivea Road by buildings. The design of frontage facing Monivea Road shall be of a high architectural standard."
He further recommended removal of the current restrictions on residential development (20% cap), access to the site from the Monivea Road, and building heights.
Mervue-based councillor, Declan McDonnell, told fellow members that this was "a very sensitive situation for a lot of us", but he agreed that the site was not viable without some changes.
"I met the receiver and asked him had NAMA ever advertised the site with the existing restrictions – he said no," the councillor said.
"They said the site won't work unless the restrictions are lifted and there is an exit onto the Monivea Road."
He expressed concern at Mr McGrath's recommendations that the cap on residential development be lifted altogether.
"I worry that if you don't put restrictions on residential, you are going to have difficulties," he said. "I'd like to limit it to 40% (280 units). A full-lifting is too much."
Fellow City East councillor, Terry O'Flaherty, said that she, too, had had a lot of consultation with residents in the area and, in keeping with their wishes, she sought to keep the plan as it was, except to remove the building cap of 20%.
Senior Planner Caroline Phelan reminded members that the restrictions they were now complaining about had been placed on the site either by themselves or their predecessors on the previous Council.
She agreed with Cllr McDonnell that allowing a greater number of homes would make the site "more acceptable and attractive to get it developed."
However, she cautioned against leaving the Monivea Road side without an entrance/exit to the site.
"It is a huge site, and you are not going to avoid traffic on the Monivea Road," she said.
"If you don't allow access, you're inviting rear elevation onto that road."
Brendan McGrath agreed, and said that the changes proposed "probably constituted bad planning."
"The Crown site is one of the biggest holes in the ground in Galway City, and you could look at it and do nothing. It is a site that adjoins GMIT campus, is proximate to the broader city centre, it will be on the bus corridor, and rather than tying yourselves up in knots, see what will work best for the community."
He said it would be much better for the community to have a well-designed residential development at this location, rather than a large retail one that closes down in the evenings.
"This is a huge site, in the Galway context, and we do want to limit the intrusion to residents, but as councillors you have to look to the future," he said.
Cllr Michael Crowe agreed that there were wider matters to be considered when deciding the future of this site. "We have to act in the best interests of the whole city," he said. "The amendments are in the best interests of this process."
He proposed that Mr McGrath's recommendations be adopted, which was seconded by Cllr Niall McNelis. This passed on a narrow margin – nine in favour, eight against, and one abstention (Declan McDonnell).
Death driver with drink and drugs in his system is sent to jail
A well-known Galway GAA man died after his car was hit by a vehicle driven by a neighbour who was three times over the drink driving limit and tested positive for cocaine.
PJ Mahoney, a grandfather, father of six and goalkeeper on the championship winning Ardrahan hurling teams in the seventies, was pronounced dead at the scene of the fatal collision, a short distance from his home in Tullira, Ardrahan, on December 7, 2021.
A farmer and contractor in south Galway and north Clare, Mr Mahoney (76) was praised by presidents, Mary McAleese and Michael D Higgins, for his support to flood-hit communities, the court heard.
PJ Mahoney was driving from his home in Ardrahan to Gort to collect a prescription when his car was struck by a car on the wrong side of the road, the court heard.
At Galway Circuit Court this week, Judge Brian O'Callaghan imposed a four-year sentence with the final twelve months suspended, on David Gough (33).
Judge O'Callaghan said Gough's driving on the day he caused the death of PJ Mahoney "was nothing short of absolute and utter madness".
In a victim impact statement, the family of PJ Mahoney urged the court to impose the maximum ten-year sentence for what the deceased's son, Patrick, said was the "reckless, dangerous and mindless actions of the defendant".
"The grief, pain and distress we feel is deep and hard to describe", he said.
Patrick Mahoney said the family are "haunted" and have been "robbed" of their ability to grieve.
The court heard PJ Mahoney died a month after the death of his wife, Marie, and days after her month's mind.
"The image of our father, lying dead on the road, the rain falling on him…", Patrick Mahoney added.
Patrick Mahoney said reports their father died as a result of the storm, caused distress.
He said weather conditions were calm and his father was a "cautious man" who would not have driven if he thought it was dangerous.
Patrick Mahoney said his father had the GAA in his veins and was synonymous with Ardrahan's hurling success in the seventies.
He said his father's death has had a terrible impact on the family and said Gough showed a "knowing, arrogant and reckless disregard for human life".
David Gough, a father of one and panel beater, with an address at Grannagh, Ardrahan, and originally from Kilderry, Muff, Co Donegal, pleaded guilty to dangerous driving causing the death of PJ Mahoney.
He also pleaded guilty to counts of drink and drug driving in the Gort area and a separate count of dangerous driving that occurred near Gort, hours before the death of Mr Mahoney.
Garda Jason Clarke confirmed to prosecuting counsel, Geri Silke BL, that when tested after the fatal crash, Gough was three times over the drink driving limit and a blood specimen also tested positive for cocaine and traces of morphine.
Garda Clarke, who was commended for the manner in which he delivered his evidence, told the court the collision occurred near Kiltartan, on a straight stretch of the R458 road between Gort and Ardrahan, on which the speed limit was 80km/h.
Garda Clarke said a Garda investigation, including CCTV taken from "reference" points along the route driven by Gough, estimated the accused was driving at a speed of 131.5 km/h when the head-on collision occurred.
An advanced paramedic pronounced death at the scene and a local priest performed the last rites on Mr Mahoney, the court heard.
Met Eireann issued a storm warning on the day of Mr Mahoney's death. but Patrick Mahoney said weather conditions were calm when his father left home.
Defence barrister, Bernard Madden SC, told the court he had been instructed by his client to apologise for the manner in which Gough had brought about the death of the deceased.
He said Gough was Mr Mahoney's neighbour and offered his "deep remorse".
Counsel said his client started to abuse alcohol and cocaine after the death of his young son.
He said his client instructs he gave up drink and drugs, without the assistance of services, but has no proof of this.
Judge O'Callaghan commended the deceased's son, Patrick Mahoney.
"It was appropriate and right that the man who went to the scene to meet his dad and formally identify him, gave the most powerful victim impact statement to the court."
In sentencing, Judge O'Callaghan said: "The facts of this case are quite horrendous."
He said by way of general comment: "The court has to again ask why so many young people are not only drink driving, but mixing alcohol with cocaine."
Judge O'Callaghan continued: "It is absolutely frightening, this toxic mixture."
He said cases come involving drugs and alcohol regularly come before the court, "resulting in tragic and other serious consequences".
The court heard that, hours prior to the fatal collision, Gough was involved in a separate incident of dangerous driving where he followed shop worker Lauren Deely from Labane to Gort.
Gda Clarke told the court that Ms Deely said: "I was afraid he was going to crash into me."
Judge O'Callaghan said: "The taunting of Ms Deely in such a serious and dangerous manner and putting her in fear of her life – not once but twice – it is so hard to understand."
He said it is of no comfort to the family that Mr Mahoney was "quite literally in the wrong place at the wrong time".
Judge O'Callaghan set a headline sentence of six years and imposed a post mitigation sentence of four years.
Judge O'Callaghan suspended the final twelve months and imposed a concurrent four-month sentence for the other dangerous driving charge.
The judge also imposed a mandatory four-year driving ban.
'Double standards' on Covid bonus for hospital catering workers
More than half of all contracted catering workers in the country's hospitals have yet to receive any special Covid payment for working during the pandemic.
That's according to Galway Senator Aisling Dolan (pictured) who highlighted the plight of these essential workers, citing in particular the situation at her local Portiuncula Hospital in Ballinasloe.
But there's no happy ending in sight for the 55 per of them who are so far empty-handed, given the reaction to her plea in Seanad Eireann last week.
Minister of State Martin Hayden said that there were individuals or groups of workers, who worked tirelessly throughout the pandemic, who were not covered by these criteria for payment.
He said that it was difficult to draw a line on the matter but that the Government based its decision on the risks faced by 'eligible frontline health care workers'.
Senator Dolan, Fine Gael's Seanad spokesperson on Education and Mental Health, said that contract workers – in catering and cleaning services – took the same risks as health care staff to keep patients safe during the crisis.
"They brought meals to patients in Covid-19 wards. However, almost a year and six months later, these contract employees have still not received payment," she said.
The Ballinasloe Senator said that she was assured that once the eligible front-line HSE workers received their payments, the contract employees would also be catered for.
"These contract employees, who are mainly women, from Portiuncula Hospital have come to me again to ask where their payment is," she said.
"I ask the Minister for Health why they and their families are left waiting. These staff on lower incomes are still waiting for this acknowledgement from Government, the Department of Health and the HSE.
"They worked alongside their colleagues employed directly by the HSE in the same roles and doing the same work, and they see how all other groups have been paid in advance of them.
"HSE employees, nurses, doctors and health and social care professionals received this payment last year and it was well deserved, but why is this group left waiting?" asked Senator Dolan.
She said that the group she spoke to at Portiuncula Hospital were proud of what they achieved, their engagement with patients and how they contributed to saving lives while working with colleagues in hospitals countrywide.
"It is important this invaluable team spirit in hospital environments across the country is not tarnished by further delays," Senator Dolan added.
Funding for dedicated cancer care facility in Galway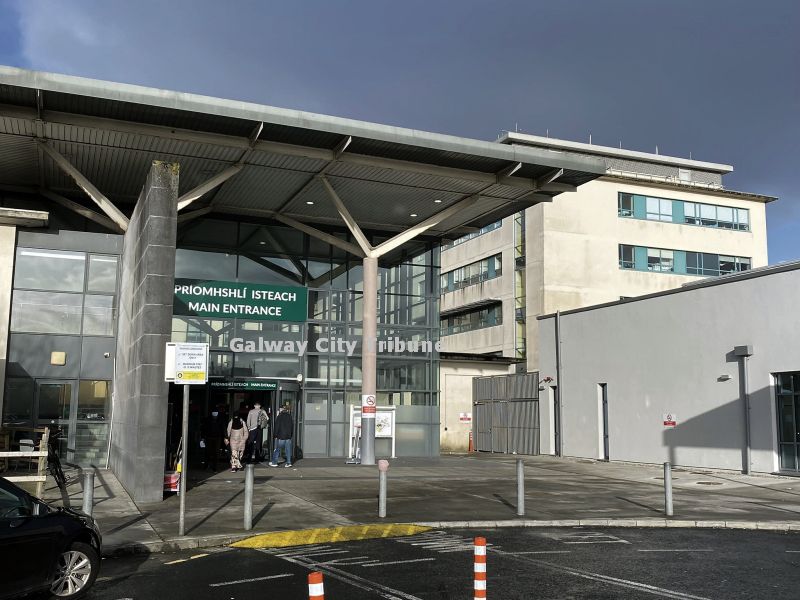 Development of a dedicated cancer centre at University Hospital Galway "passed the first hurdle" this week as the project was included in the HSE's Capital Plan.
The document, which sets out the health service's annual plan for capital investment, commits to furthering the design feasibility of the project this year.
Minister of State Anne Rabbitte (FF) said its inclusion was a welcome step forward for what she believed would be a "beacon of best practice" in cancer care for the region.
"Ultimately, the Cancer Care centre would include operating theatres inpatient ward accommodation, an ambulatory day care centre and associated diagnostics.
"There's now funding set aside for initiating the design feasibility in 2023 which I'm sure will be progressed as quickly as possible," said the Galway East TD.
This comes following years of campaigning by health care professionals and local representatives who have highlighted inequality in access to treatment for cancer patients in the West.
As reported by the Connacht Tribune last week, cancer sufferers in the West have poorer survival rates than those elsewhere in the country, with Saolta Health Care Group CEO, Tony Canavan, stating that "infrastructural challenges" were impacting on care delivery.
"Later presentation [with symptoms], geographic dispersion, aging population and deprivation index all contribute to the cancer incidence and outcomes in the Saolta region," he said.
Minister Rabbitte said when the cancer centre was delivered, patients in the West would have a world-class service – and she would be demanding funding was secured to not only plan the centre, but deliver it.
"Over the past twelve months, I have been working with officials in the Department of Health, the HSE at a national and local level, as well as the Saolta Group, clinicians in Galway and Cancer Care West to advance this project.
"This is a pivotal development for cancer patients in Galway and, once finally commissioned, will need hundreds of millions invested to deliver a world-class cancer centre at the hospital," she said.
The annual HSE Capital Plan announced on Monday also included for the extension of the Emergency Department at Portiuncula Hospital.
Minister Rabbitte said the extension would ease pressure on the ED and followed significant investment already made in the Ballinasloe hospital.
"This is an issue I raised with the Taoiseach Leo Varadkar during his visit to the hospital earlier this year. This comes on top of the 50-bed ward block that's under construction, as well as the additional rooms in the outpatients' department being delivered," she said.
"These are two important developments for Galway and I will continue to work with the various stakeholders to ensure that progress is made to bring these projects through to construction."