Hard Knocks Hostel drama hits the web
At a short film screening in Galway last month, actor Chris O'Dowd said Galway could well become the short film capital of Europe. And two budding Galway-based film makers are hoping to prove him right with a new comedy web series due to go online at the end of the month.
Karen Murphy has written, starred and directed the six-part series called Hard Knocks Hostel. Her partner Aaron Woods is the producer.
Karen used the experience of working for over three years in Barnacles Hostel on Quay Street to create the plot.
Set in a badly-run backpacker hostel in rural Ireland, the series follows the lives of two receptionists who are bored to tears working in the facility. To cope with the monotony, they get creative in their dealings with guests, which is fine by the boss, who has a rather unusual philosophy when it comes to the service industry – the customer is not always right.
"The wealth of characters you meet in a hostel – I felt after a year that I was meeting the same person over and over again – but not in a bad way," smiles Karen.
"The guy with the guitar who bought an extra plane seat for his guitar so he can impress the girls in the canteen; the old man in a beanie who thinks he's still 20; the stags who run around naked in the halls. Then there's the types not used to hostels who think they're in a hotel."
The entire series was made for just €1,200 after Aaron launched an appeal on the public fundraising website, fundit.ie.
They recruited a team of 20 actor and crew members over Facebook and other industry websites and managed to convince the owner of Kilronan Hostel on Inishmore to let them take over the building for four days for free during their off-peak season.
The couple put in 14-hour days to wrap up the shoot in time, barely making the last boat off the island on day five.
Little Cinema, which provides a platform for filmmakers with small budgets by holding live screenings every month in the Róisín Dubh, provided massive support for the project by renting out high quality equipment for the shoot at a bargain basement price.
Little Cinema bought the equipment after Chris O'Dowd, star of the Hollywood blockbuster Bridesmaids and creator of the hit series Moone Boy, handed them €5,000 – two years running.
He was so impressed by the group's support for fledgling artists that he attended their recent special screening in Nun's Island Theatre, just days before he was conferred with the freedom of his native Roscommon.
The couple met while at the University of Limerick; Aaron from outside Ennis spent four years studying music and video production while Kildare native Karen studied law after her first choice, acting in Cambridge University, proved too costly.
They then both completed the masters in production and direction at the Huston Film School at NUIG.
While both of them have short films behind them, this is their first major production.
"At some point we're going to enter the real film industry and you won't have the choice who you work with or the material. It was kind of a fantasy to get together with a few of my friends and other like-minded people and just get stuck in creatively," Karen recalls.
Each of the six episodes will last about seven minutes. The series will be available for free online and hope to use it to open some doors when they emigrate to Vancouver in Canada next January.
"Low-budget filmmaking is taking Galway by storm. With filmmaking, the only real way to get started is to go it alone. That's why I rely on great sites like Fundit.ie to help me reach my goal and find the funds for short films I wish to make," Aaron explained.
"People don't look up whether you have a masters. It's your show reel that counts. There's also quite a lot of nepotism in the industry, so it's a lot of who you know here."
At nearly 27, Karen is ready to leave her hostel-working days behind for a career in film. Aaron, who works in the IMC cinema to fund his film ambitions, is hoping his lack of a car won't hinder him anymore once in Vancouver. He says most of the work in Galway is not accessible unless you have private transport.
They both hope to take advantage of a thriving industry in Canada, where many American companies travel to for shoots due to tax breaks
Hard Knocks Hostel is currently being edited and the episodes will be launched at a special screening in the Quays Bar on November 28. It will then be available on Facebook
Organiser picked the perfect time for Inis Meáin blackberry festival
A brand new blackberry festival, 'Féile na bPuiteachaí' will take place on Inis Meáin today Saturday 1 October, celebrating the island's blackberries with a wide variety of events.
The festival is named after an Irish word, 'puiteachaí', which is unique to Inis Meáin and is used locally instead of the more commonly-known 'sméara dubha'.
Events taking place at Halla Naomh Eoin on the day include blackberry ink and jam-making, poetry and baking competitions, a gin workshop and an evening concert.
Festival Director Aedín Ní Thiarnaigh said: "We are absolutely delighted to launch this festival and to celebrate some of the many assets we have here on the island; from the blackberries themselves to the skills of the Inis Meáin community.
"It's all about appreciating the landscape around us, as well as our local culture and community," she said.
Entries are welcome for the first ever 'Féile na bPuiteachaí' Baking Competition (3pm) which invites bakers to prepare a dish of their choice with blackberries as a key ingredient. Entries will be judged on the day by head baker at the Michelin Green Star Award-Winning Inis Meáin Restaurant and Suites, Maedhbh Ní Dhomhnaill, with prizes of €100 for first place, €50 for second and €30 for third.
"There's great excitement among the local community already about the competitions, which is brilliant. Of course, we also welcome entries from other areas and hope to get support from our neighbours on the Aran Islands and in Conamara," said Gráinne Ní Chonaighle, Vice Director of the festival and project co-ordinator with Comhlacht Forbartha Inis Meáin.
From food to drink, high demand is expected for Pádraig Ó Fátharta's drinks workshop (4.30pm), where he will reveal his top tips for gin-making with Inis Meáin's wild autumn fruits and where participants will make their own wild gin infusions to take home.
Television presenter and folklorist Aedín Ní Thiarnaigh will lead a guided blackberry-picking tour on the day (noon), where participants will gather their own berries and hear folklore associated with the island's unique landscape.
Participants can then put their berries to good use at the first of the day's family events, making fresh blackberry ink with local women Juda Uí Loinsigh and Orlaith Bhreathnach and creating their very own 'puiteachaí' painting.
No blackberry festival would be complete without some good old-fashioned jam-making (1pm) and festival goers will also have the option to turn their own collected berries into jam on the day in the Halla Naomh Eoin kitchen.
Award-winning harpist Úna Ní Fhlannagáin will take to the Halla Naomh Eoin stage for the festival finale for a night of music and song from 8pm.
More information and event registration will be available at inismeainbeo.ie and at Siopa Ruaidhrí Beag in the week before the festival.
Lackagh students' mini-boat sets sail in the South Atlantic
Spiorad na Gaillimhe, an uncrewed mini-boat built and decorated by students from Scoil Bhríde in Lackagh has set sail in the South Atlantic.
It is one of four miniboats – the others from schools in Spain, Germany and South Africa – that were deployed from the Alfred-Wegener Institute's Icebreaker, RV Polarstern, as it sails between Germany and South Africa.
These four new vessels will join the 18 Educational Passages boats that are currently sailing around the world's oceans. Spiorad na Gaillimhe (Spirit of Galway) is the first mini-boat to set sail in the South Atlantic.
School Principal Shane O'Connor and teacher Tomás Higgins were fundamental in ensuring the project was delivered.
Mr Higgins said: "The project was an engaging and great project for the pupils that's cross curricular in nature incorporating many skills and subjects such as science, maths, art and geography and gave us the opportunity to bring the theme of the ocean and ocean literacy into the classroom in a fun and interesting way.
"We were delighted in Scoil Bhríde to have this unique and great opportunity, thanks to the support of Sheena Fennell, University of Galway, POGO [Partnership for Observation of the Global Ocean] and Educational Passages, to participate in the Miniboat Programme.
"And I'm delighted that my colleague Aisling White will continue on working with our pupils during this academic year and she looks forward to following the journey of Spiorad na Gaillimhe and continuing the project with the pupils."
The project was funded by the Nippon Foundation and POGO and has provided the students in Galway with an opportunity to learn more about oceanography and ocean technology.
Professor Peter Croot and Senior Oceanography Technician Sheena Fennell from Earth and Ocean Sciences at University of Galway worked with the school throughout the process, delivering ocean experiments and guidance with the build.
Professor Croot said: "The students in Scoil Bhríde were responsible for constructing the boat, deciding on a name, decorating the sail and hull and, most importantly, had to decide what treasures to place in the hold for any lucky finder if it comes ashore.
"Once Spiorad na Gaillimhe sets sail it will regularly send its GPS location and values of sea and air temperature. The students will be working to predict where it will sail in the ocean by looking at weather and ocean current maps, thereby learning about our oceans."
You can keep up to date by searching 'Spiorad na Gaillimhe' on educationalpassages.org
Motorists urged to think twice about their parking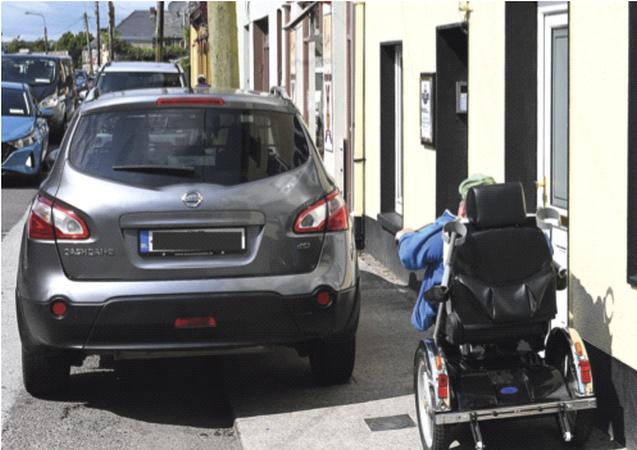 MOTORISTS around Galway have been reminded this week that careless parking on footpaths – or illegally taking up spaces allocated for disabled drivers – can cause untold hardship for people with disabilities.
'Make Way Day' is taking place this Friday when motorists will be asked to think twice before leaving their cars in 'obstructive positions' – cyclists who tie their bikes onto poles and railings are also being targeted.
And while Friday's campaign is essentially about awareness and respect, motorists have also been reminded of the severe fines that can be imposed for careless parking on paths or in disability spaces.
One of the campaign organiseers, Peter Gohery from Eyrecourt, said that parking in a disability parking space without the designated blue card carries a €150 fine while the penalty can rise to €3,000 if such a card is being illegally used by someone else.
"There are penalties in place for this kind of parking but first and foremost we want this to be an awareness and respect campaign.
"If, for example, someone with a disability is forced onto the public road because a car is parked on a path, this involves not only an inconvenience for the disabled person, but also a real danger," said Mr Gohery.
An amputee himself following a farming accident a number of years back, Mr Gohery said that awareness and common-sense by drivers could make a huge difference to people who suffered from disabilities.
"For example, a visually impaired person using a guide dog, can be forced off the path if a car is illegally parked there – we're just pleading with people to think twice before they park illegally," he said.
Dr Charlotte May, Galway Public Participation Network (PPN) Co-ordinator, said that Make Way Day was part of a national campaign ran by the Disability Federation of Ireland aimed at bringing people with disabilities and the wider community together.
"The day is meant to be a friendly reminder that cars parked on footpaths; bicycles illegally parked; and bins left on footpaths, all block the way and create barriers for people.
"Make Way Day is not about pointing the finger at local authorities, other agencies, or randomly scattered activism.
"The whole point of the day is making the public aware of an issue that is fully within their power to change. It's about one impactful, co-ordinated and decisive day of action," she said.
Make Way Day will be marked this Friday in Loughrea (Bridge Street carpark) at 10am and in Portumna (The Square next to St. Brigid's) at 12.30pm where obstacles on the paths and streetscapes will be identified and highlighted.
A similar type of event is also planned for Clifden between 11am and 1pm starting off from the Town Hall.
"The campaign brings the disability and wider community together to consider the needs of people with disabilities in the public spaces we all share.
"Everyone can get involved. And everyone should get involved because we've discovered thoughtlessness is the big issue," said Dr May.