Hospital emergency department 'not fit for purpose'
THE Emergency Department of University Hospital Galway (UHG) is no longer compliant with infection prevention and control standards and needs to be replaced with a new purpose built unit, a top level report has recommended.
The report, from the General Manager of Galway University Hospitals, also spells out that the Emergency Department (ED) at UHG 'does not enable compliance with the Emergency Medicine Programme or Unscheduled Care Patient Experience targets.
In her report, General Manager of the Hospitals Ann Cosgrove, outlines that a feasibility study is now being carried out on two options to replace the current ED – one costing €30 million and the other €60m.
Option one involves the replacement of the current ED with a two storey building incorporating an Acute Medical Unit and an Acute Surgical Unit, costing a total of €30 million.
The second, more ambitious option, is for a six storey building, that would include four shelled-out floors to be used as replacement accommodation for the Maternity Service into the future.
According to Ann Cosgrove's report, the cost benefit analysis on the two options is currently with the HSE's National Capital Steering Group.
"The replacement ED has incorporated capacity to meet the requirements of the Emergency Medicine Programme e.g. Clinical Decision Unit, and also includes capacity to meet the requirements of any future reconfiguration of services across the group," she states.
The report from the Hospitals General Manager was released to Labour Party TD, Derek Nolan, following a question he submitted to Health Minister, Leo Veradkar seeking an update on the 'state of play' as regards a new ED at UHG.
"What this report spells out in no uncertain terms is that the ED of UHG is not fit for purpose. It really couldn't have been put much clearer in the report – it is not satisfactory from the point of view of infection control, patient streaming or good practice in emergency medicine," Deputy Nolan told Galway City Tribune.
He said that this report made it crystal clear that the construction of a new ED unit at UHG was not an issue relating to value for money but was an absolute basic medical necessity.
"We want the HSE to make a decision on this new unit as soon as possible and I certainly believe that the larger build would be the way to go, allowing for the expansion of the maternity services in the years to come."
For more on this story, see the Galway City Tribune.
Galway City centre streets to be dug up – yet again
From this Week's Galway City Tribune – Just days after the annual tourist season kicked off with the St Patrick's weekend festivities, an area of the city's main throughfare is to be dug up yet again.
The City Council confirmed this week that "upgrade works" at the junction between High Street, Shop Street and Mainguard Street are to commence next week, drawing the ire of local business people and residents.
One local councillor and businessman said the works, which brought huge disruption while being carried out on other stretches of the route in recent years, should have been carried out while footfall was lower in January and February.
Cllr Níall McNelis told the Galway City Tribune that business people in the area were outraged at the news, and despite assurances from the Council that the works would be done "without major disruptions", bitter experience has taught them otherwise.
"They're outraged, to be blunt. They just can't believe this is happening now," he said.
"Everyone understands that these works are necessary, but this is going to take weeks out of what should be one of their busiest times."
Works in the area were left incomplete as a result of the visit of Britain's Prince William and Catherine in 2019.
In a statement issued by the Council, Director of Services Patrick Greene said the works should be "substantially completed by early June".
This is a shortened preview version of this story. To read the rest of the article, see the March 24 edition of the Galway City Tribune. You can support our journalism and buy a digital edition HERE.
What a melt: proposed bylaws put 20-minute limit on ice cream vans in Galway!
From this week's Galway City Tribune – Ice cream vans will only be allowed to sell to the public for 20 minutes before being obliged to move on to a different location if proposed new bylaws for casual trading in Galway are adopted.
The 2023 regulations to replace the 2011 bylaws will also outlaw any single use plastic products to be given out or sold by stall holders, including bottles, cutlery, containers, single use sachets, plates and straws. Compostable or reusable alternatives must be used instead of single use plastics.
The maximum time that the ice cream mobile unit can be stationary at any one location is 20 minutes.
Traders will avoid huge cost increases seen elsewhere – it will cost €267.50 annually per bay for Eyre Square (up marginally from €250). In St Nicholas' Market it will be €69.50 per linear metre – generally equating to €139 for regular size pitches, an increase of €9.
Stall holders will again have to buy a separate licence to trade on Sundays and for the market Wednesday to Friday in July and August. But they will be able to set up shop for free at Christmas if they hold a licence for Saturday or Sunday.
This is a shortened preview version of this story. To read more on the draft Casual Trading Bylaws, see the March 24 edition of the Galway City Tribune. You can support our journalism and buy a digital edition HERE.
€450m Emergency Dept and Women and Children's block at UHG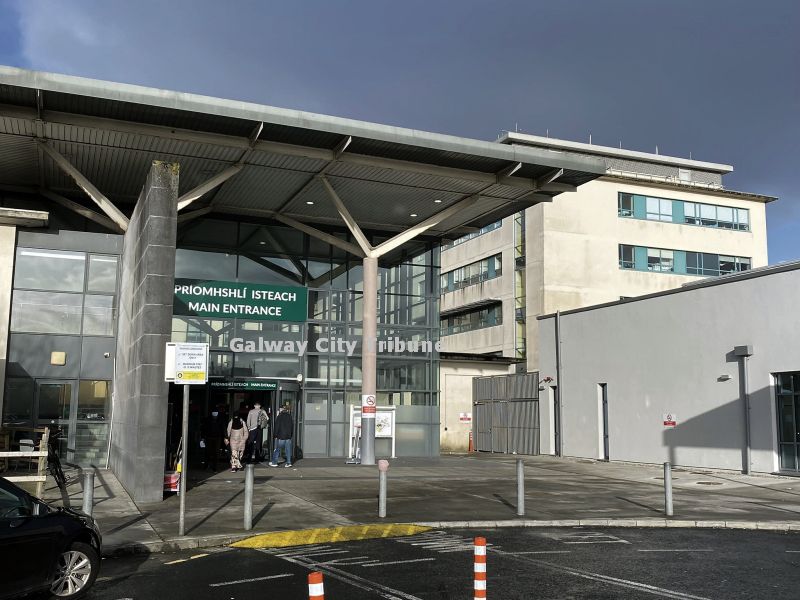 From this week's Galway City Tribune – Inadequate resuscitation capacity and overall space, as well as isolation from ICU, diagnostics and theatres along are part of the HSE's rationale for building a new €450 million Emergency Department and Women's and Children's block on the grounds of UHG.
The health authority is hoping the new development could commence construction in 2026 and be completed in early 2029, and the Galway City Tribune has learned it would have operational costs in the region of €40 million per annum.
According to the HSE, the existing Temporary Emergency Department – which opened its doors last October – there is inadequate space for the 70,000 attendances each year.
This includes "a lack of facilities for isolation, mental health, gynaecology, limited paediatric ED accommodation with significant resuscitation capacity to meet emergencies and trauma", HSE documentation reads.
The ED has also fallen well short of national targets for Patient Experience Time – that 95% of all patients should be see or admitted or discharged within six hours and 100% within nine hours.
In UHG, the figures for 2020 were 13% and 44% respectively, due to what the HSE describes as "sub-optimal infrastructure, design and consequently poor patient flow and capacity limitations".
The HSE also noted the existing Women's and Children's services operate from "poor quality, mainly single-storey buildings from 1950s and 1960s dispersed across the site with no direct access to the ED, isolated from vital healthcare services such as critical care, diagnostics and theatres".
Theatre capacity was described as "inadequate" for UHG's catchment of around 323,000 people from Galway, Mayo and Roscommon. The population for the wider Saolta University Healthcare Group, for which UHG is the tertiary or specialised care hospital, is estimated at 830,000.
The HSE said the new building would allow for a dedicated paediatric ward, adolescent beds (up to 16th birthday) and ambulatory facilities, "located closer to the critical medical infrastructure of the hospital".
This is a shortened preview version of this story. To read the rest of the article and for details on the cause of a "foul odours" problem on the hospital grounds, see the March 24 edition of the Galway City Tribune. You can support our journalism and buy a digital edition HERE.