Homecoming gig for Galway band riding the crest of a wave
Fittingly for a band called the Clockworks, it looks like it's time to shine – and the Galway quartet are set to have plenty to celebrate by the time they play an eagerly awaited homecoming gig later in the year.
Friends since their schooldays, the Loughrea-based foursome are made up of London-born lead singer James McGregor, guitarist and backing vocalist Sean Connelly, drummer Damien Greaney, and bassist Tom Freeman.
BY DANIELLE HOLIAN
James and Sean originally played music together for fun, putting music to James' lyrics in Sean's shed. Damien joined as drummer and – have seen different bassists come and go – they met Tom in 2017 through the Galway music scene.
"Home for the band as a whole is Galway city, in the sense that it's where we've always had our base, and where we met Tom," say the lads.
James graduated from NUIG with a BA in English and Philosophy – a degree that has clear benefits for his songwriting.
"I think most people would say the best way to learn to write well is to read as much as possible, and to read diversely
"I think studying English showed me loads of writing that I love, and loads of writing that I really dislike, and so that definitely helps with knowing what and how I want to write myself," he says.
That said, the writing process is different each time the quartet come together.
"James carries a little notebook with him and writes songs about situations and emotions that relate to him, our group and people we know.
"These words and ideas are brought to the rehearsal room where the four of us work on the song until we're all happy with every second of it.
"In the rehearsal room, some songs have taken an hour and others have taken six months. There's no telling."
Damien took a trial and error approach to college.
"I went from doing a course that I hated, to working a job that I hated to playing music which I loved," he explains.
"So, I definitely made the right decision. It's not always easy and it's not always fun but I've never once thought it was a mistake."
Sean, on the other hand, had a tunnel vision as far back as he can remember; he always knew music was a passion and something he wanted to pursue.
"I always knew I wanted to play music as a career, right the through school. Well, that or be a professional footballer… but I just wasn't good enough for that so I stuck with the guitar," he jokes.
Tom, who is a recent graduate from NUIG, bumped into the band around the music scene in Galway. "We chatted a few times, and then Sean asked me to come for a jam. The rest is history."
And because they all basically grew up in Galway, the west is a strong part of their influence – but not in terms of musical trends.
"Because the scene in Galway is relatively small, there are no trends in music here. There's no expectation on bands to sound like the latest thing.
"This is great because every band is free to take influence from different places, and this actually makes Galway's small scene really interesting."
They've toured Ireland, England as well as heading over to Canada to represent Ireland at Indie Week in Toronto last year for the title of 'Best of the Fest'.
They have been gigging with their music rather than flooding the internet with new releases that may be dismissed in an era that constantly needs to be seen and heard.
With their head-banging indie-rock tunes the quartet are creating a distinctive identity across the nation with their act, compared to doing all they can for short-term fortune and fame.
Their storytelling, tongue-in-cheek, cohesive unit that provokes danceability blending humour and talent with their sharp observations, blunt and gritty instrumental, and classical drumming beats, they showcase their need to stray away from standard music on the radio nowadays.
Combined with blissful angst, attitude and frustration that brings their opinions front and centre, rather than staying in a mainstream line with an instant sense of originality.
They have been travelling as a band with their original material gaining a larger audience across the globe at the moment.
"The reception since bringing out our single Rumours in the Stockroom has been amazing; it has over 30,000 streams on Spotify. Wherever we play there are people who know the song and sing it when we play, which is a great feeling."
And they have gone from support slots to headliners – and now selling out shows.
They have played Electric Picnic, Dublin's Workman's Club, and Whelan's, Galway's The Loft, Roisin Dubh, An Pucan's Fever Pitch Festival, The Black Gate Cultural Centre, as well as shows in London.
But the Clockworks' 'this is it' moment was at a recent rehearsal where they worked four brand-new songs into their set.
"We really feel like we've found our sound, and can't wait to play the new set at our headline gig in the Roisin Dubh on October 13."
For the Roisin show, fans can expect a 'brand-new set with some brand-new songs, and the same old Clockworks.'
Since their debut Girls Like You, lyrically their music has evolved in a sense that "the songs are still coming from a similar place: it's always been vital for us as a band for the songs to be honest, and to focus on topics that matter."
And fundamentally the band are clear about their mission.
"To write honest songs that you can dance and sing along to, but that ultimately have something real to say and a reason to be.
"If someone came up to us and said that they had been inspired to form a band based on listening to our music…that would be an amazing feeling."
Get the Connacht Tribune Live app
The Connacht Tribune Live app is the home of everything that is happening in Galway City and  county. It's completely FREE and features all the latest news, sport and information on what's on in your area. Click HERE to download it for iPhone and iPad from Apple's App Store, or HERE to get the Android Version from Google Play.
More than €200,000 worth of cannabis seized in East Galway
More than €200,000 worth of cannabis was seized in during two separate search operations in East Galway on Saturday.
Gardai from the Divisional Drugs Unit conducted a search at a residence in Aughrim and seized cannabis plants with an estimated street value of €146,000 and €20,000 worth of cannabis herb which will now be sent for analysis.
Two men (both in their 30s) were arrested at the scene in connection with the investigation and are currently detained at Galway Garda station under Section 2 of the Criminal Justice (Drug Trafficking) Act, 1996.  Both men remain in custody.
A separate search was carried out at a residence in Ballinasloe yesterday afternoon and cannabis herb with an estimated street value of €35,000 was seized. Cannabis jellies and €7,510 in cash were also seized.
A man in his 40s was arrested and later released without charge and a file will be prepared for the Director of Public Prosecutions.
Joint move by Galway councils to Crown Square ruled out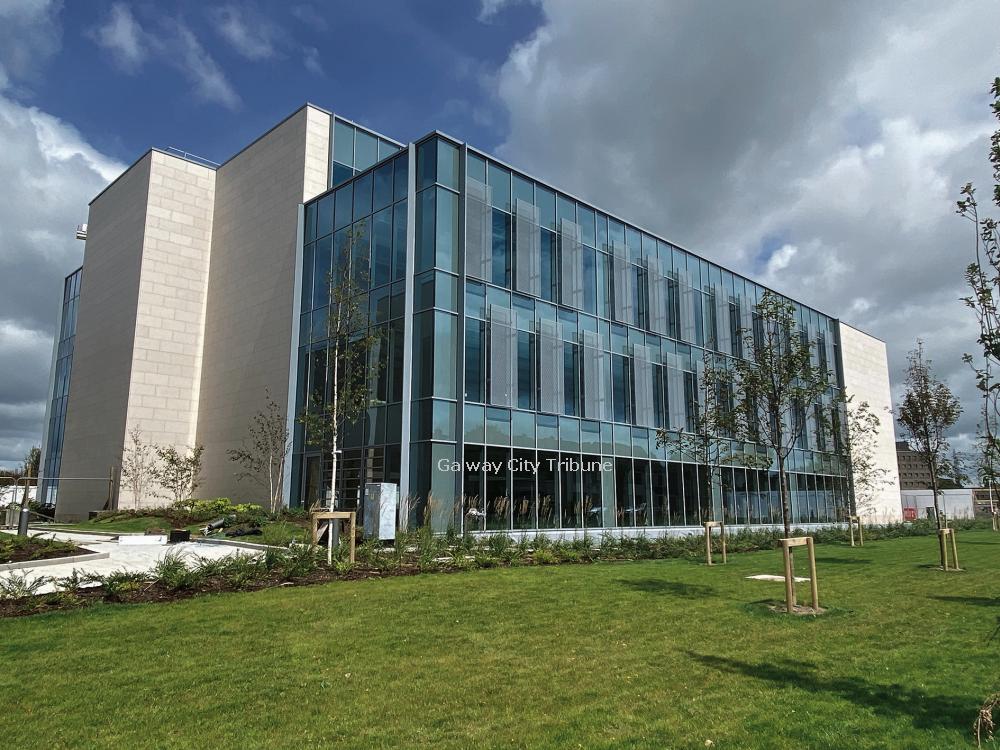 A senior Department of Housing official floated the idea of Galway County Council workers moving to Galway City Council's newly-acquired Crown Square office building if a merger of the two local authorities was to proceed.
However, he was told the proposed merger of Galway's two councils was not being pursued "at this stage", and that it "should not be a consideration" when deliberating on the City Council's application to the Department for a €45.5m loan approval to buy the offices in Mervue, on the eastern side of the city.
The discussion was contained in internal communications between officials in the Department of Housing and Local Government who were discussing Galway City Council's loan sanction application. It was released to the Connacht Tribune under Freedom of Information (FOI).
Gary McGuinn, the Department's Assistant Principal Officer for Local Government Governance and Elected Members – in a comprehensive memo about the Council's loan application – raised the prospect of what would happen if a merger between the two councils proceeded.
"Over the years there have been merger proposals for Galway City Council and Galway County Council. These proposals ultimately never advanced but I believe that there has been incrementally closer coordination between both executives.
"Galway is now something of a holdout given that mergers have taken place in Limerick and Waterford, while the boundary issue was settled in Cork by extending it to encompass the city suburbs and outlying districts.
"Both Galway City Council and Galway County Council have office premises in Galway city centre. On a purely speculative note, one could ponder what would happen to the new City Hall building that they want to borrow to fund if there is an eventual merger?
"Possibly it would become the HQ for a 'Galway Metropolitan District' structure within a single 'City and County' type local authority. As there is no such proposal at this time though it's probably not something that can be asked about or planned for," Mr McGuinn said to his colleague, Tim Nuttall, an official in the Department's Local Government Finance section.
His views were forwarded to another section within the Department of Housing last September, just before Minister Darragh O'Brien sanctioned the loan application last September.
In response, another civil servant in the Department of Housing, Áinle Ní Bhriain, said: "I can confirm there are no plans to pursue a merger of Galway City Council and Galway County Council, which was approved by Government in 2018, at this stage, and therefore should not be a consideration in relation to this loan."
Chief Executive of Galway City Council, Brendan McGrath, confirmed two days before Christmas Eve last year, that the deal to buy the property from JJ Rhatigan was complete.
City Council workers are due to move to the new building by the end of this year.
In its loan application, the City Council said its College Road site, built 40 years ago, and refurbished and extended in the 2000s, had a number of "challenges".
These included "limited capacity for additional headcount, lack of facilities within current infrastructure, building standard compliance and meeting our existing building climate targets for 2030".
It pointed out to the Department that it leases two buildings in the city centre, to accommodate staff as well as City Hall, and buying Crown Square "will address the challenges outlined in the most efficient and cost-effective way and release our current City Hall, city centre site for regeneration".
Hotel sector's plea to retain lower VAT rate
With overseas visitors down more than a quarter and increases of 300% in energy bills compared to before the pandemic, now is not the time to hike VAT rates for hospitality.
That is the plea from the chairperson of the Galway branch of the Irish Hotels Federation (IHF), John Ryan, who is urging the Government to keep the 9% VAT rate for the tourism and hospitality sectors indefinitely.
The Government delayed the introduction of a 13.5% rate until March 1 at a cost of €250 million to help the sector get back on its feet after Covid.
Minister for Public Expenditure Paschal Donohue referred to price gouging in hotels over the summer as one of the key reasons he was upping the rate.
Minister for Tourism, Culture, Arts, Gaeltacht, Sport and Media Catherine Martin last week stated that it was no secret she had sought the retention of the 9% rate in negotiations for the 2023 Budget and "will continue to seek it".
The lobby group for small to medium business, ISME, has called for the reduced VAT rate to be brought in for the entire services sector.
The owner of the Ardilaun Hotel in Taylor's Hill said the average price of a hotel room was €167 last year. With 4,000 rooms in Dublin booked out to accommodate refugees, the price of the remaining stock was at a premium.
"You could find a couple of examples all over the country where people were charging unfair prices and were wrong. There were a few serious spikes – maybe 1% of overall accommodation stock in Dublin did that. If I was a customer I wouldn't pay it," Mr Ryan said.
"But they shouldn't penalise the entire sector because of that 1%. The 9% is the right one. We would be the same as other countries where tourism is a key industry. If we went up to 13.5%, we'd be the second highest after Denmark.
"We couldn't absorb that. We have already contracted our foreign business for 2024/25 – we'd have to go out and tell suppliers we are putting up rates. That's just not on."
With almost all key tourism markets experiencing a cost-of-living crisis, the last thing the industry can cope with is a tax jump.
Of 27 EU countries, the VAT rate on accommodation is 9% or lower in 16 countries.
Tourism supports 22,000 jobs throughout Galway, generating €910 million in tourism revenues annually for the local economy.
Last year the average room occupancy levels were 69% for the West, just 1% lower than national rates. Over the same period in 2019, however, room occupancy was at 78% nationally.
This is largely due to a shortfall in overseas visitors to Ireland, with numbers still down more than 25% last year compared to 2019.
A recent survey found that hotels and guesthouses were reporting reduced levels of forward bookings compared to the same time in 2019.
Some 57% report reduced bookings from Great Britain, 48% say bookings are down from Northern Ireland, while 37% record fewer bookings from the rest of Europe. US bookings are down 41%.