Having a gay old time – without Fianna Fáil!
Bradley Bytes – A Political Column with Dara Bradley 
Gay Pride offers liberal politicians and political parties an opportunity to show how 'right-on' they are.
Liberalism is the new religion, and so attending Galway Pride parade, as well as being a practical and welcome show of support to a minority grouping, also offers an opportunity for virtue signalling . . . and some positive PR.
The support of the LGBT+ community has long been coveted by the liberal Left, but now even a traditionally conservative party like Fine Gael – which is led by a gay man, Leo Varadkar – is vying for the pink vote.
The annual Pride parade through the city is an opportunity for political parties to flex their muscles. The number of marchers in the Pride parade offers an unofficial guide to the relevant strength of each political movement, at that particular moment in time. The 2019 edition, the 30th Galway Pride, was no different.
The Social Democrats, the gayest of all parties having sprung up post the marriage equality referendum, has been well represented at Pride ever since it was founded in 2015. There were so many Soc Dems marching in the parade this year – Owen Hanley, a gay Galway City Councillor chief among them – that a rival suggested they must've been bussing them in.
The Greens were well represented, too. Back from the brink, and now with two city councillors (Pauline O'Reilly and Martina O'Connor) and one county councillor (Alistair McKinstry), the green revival in the local elections was reflected in their bigger than usual gang at Pride.
The hard left was this year represented by People Before Profit, including Joyless Joe Loughnane, and they'd a decent turnout, although reports that they split due to a rift mid-way down Shop Street couldn't be confirmed.
Speaking of splits, Sinn Féin, in Galway is divided on whether it should be a socially liberal party, as opposed to a socially conservative one (this divide exists at national level and led to a breakaway party, Aontú being established). Nevertheless, the local Shinners marched in Pride this year, albeit in fewer numbers, with just Mark Lohan and Maireád Farrell, who lost their Council seats in May, joined by a couple of others.
Labour, whose membership is dwindling more than any other leftie party, managed to muster up five marchers, including councillor Niall McNelis and his former Council colleague, the retired Billy Cameron. They had as many marches as SF, and nearly as many as Fine Gael, who in fairness, despite their conservative bent, had the most high-profile turnout of all political parties. The Blueshirts were out in force with Government Chief Whip Seán Kyne, and his constituency colleague, Deputy Hildegarde Naughton, joining new city councillors Eddie Hoare and Classy Clodagh Higgins in the parade. The youth wing of Fianna Fáil (Ógra) was in attendance too, but newbie councillor Alan Cheevers was the only elected member of the Soldiers of Destiny spotted marching at Galway Pride.
Mayor Mike in Milwaukee
Mayor of Galway, Mike Cubbard posted a photograph online last week, of the Galway stand at Milwaukee Irish Fest . . . for more Bradley Bytes read this week's Galway City Tribune 
Renters paying €12,000 more per annum in Galway City than ten years ago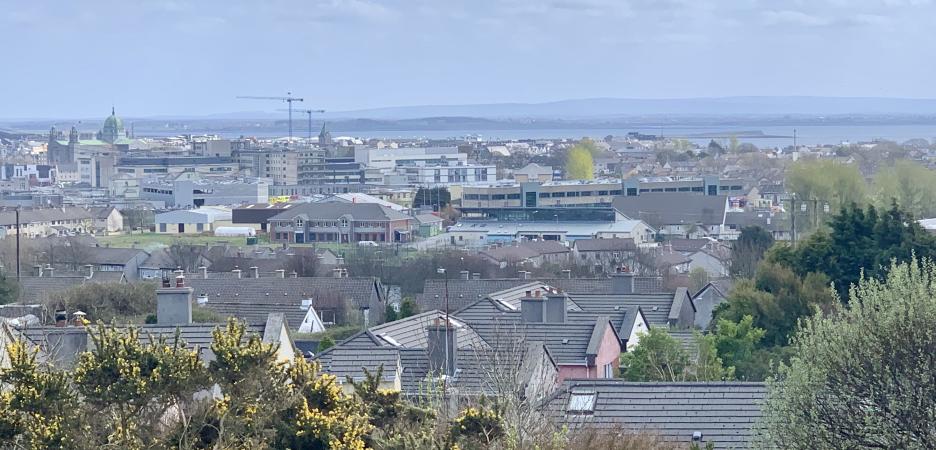 People living in private rented accommodation in Galway City are paying, on average, around €12,000 more per annum than they were a decade ago.
New research from property website Daft.ie has found that in the past year, average rents in the city have increased by 16.4% and now stand at €1,713 per month.
Meanwhile, the Dáil was told last week that the situation in the rental market in the city is "horrendous".
According to the figures published this week, rents in the city have increased by a whopping 145% since the bottom of the market in early 2012, when they stood at an average of around €700 per month.
Nationally, the increase was 14.1% year on year, or 4.3% between June and September (the figure was 3% for Galway City).
Economist Ronan Lyons of Daft.ie said that the last ten quarterly reports from the website have recorded new all-time highs for average rents.
He said that in the past 18 months, there has been an "extraordinary collapse" in the stock available to rent in Ireland.
Speaking at the Oireachtas Select Committee on Finance last week, Galway West TD Mairéad Farrell said Sinn Féin had long been calling for tax credits, but these needed to be in tandem with a freeze on rents.
"My concern is that if the Government does not introduce a rent freeze, this measure will put further pressure on families and individuals who are struggling to pay for their accommodation. Many renters feel there is no end or hope in sight. To be perfectly honest, I have never seen the housing crisis in Galway as bad as it is now.
"Galway is the place I can best reference and there is little rental property available in Galway. There is concern that this will add to the pressure that people are already facing if a rent freeze is not also introduced," she said.
Finance Minister Paschal Donohoe responded that in the Budget he had announced a €500 rent credit, specifically for those who do not receive other housing supports from the State.
"I also acknowledge that too many people are paying too much of their income in rent," he said.
The Minister added that in Berlin, where rent freezes were imposed, the volume of new rental accommodation available had decreased, and he contended the same would happen in Ireland.
Deputy Farrell said: "Myself and the woman who works with me in my local office are at our wits' end. Today we had a conversation about how to tell people coming to us that the council can do nothing because there are no rental properties and there is nowhere for people to go.
"That is a position that we have not seen ourselves in since I was elected. I am talking about the period since 2014. Things are getting worse."
According to the Daft.ie report, average monthly rents for a one-bed apartment in Galway City stand at €1,142 (up 15% year on year); €1,333 for a two-bed house (up 13.7%); €1,594 for a three-bed house (up 16.2%); €1,948 for a four-bed (up 17.7%) and €1,959 for a five-bed (up 2.7%).
For the 'rent a room' renters, a single bedroom in the city centre is costing an average of €572 per month (up 15.1% year on year) and €617 for a double room (up 13.4%). In the suburbs, single bedrooms and renting for €533 per month (up 20.3%) and €593 for a double (up 22.5%).
Minister deploys high-level 'rescue' team to help University Hospital Galway
From this week's Galway City Tribune – Health Minister Stephen Donnelly has deployed a high-level National Support Team to help crisis-stricken University Hospital Galway
Ann Cosgrove, Chief Operating Officer of the Saolta University Healthcare Group – which operates UHG and Merlin Park – confirmed this week that the 'rescue' team was in place to tackle overcrowding and delays at the Emergency Department.
Membership of the support team includes at least seven high-level HSE managers, including a hospital consultant.
The team has already met with local staff in charge of patient flow, discharges, bed management and unscheduled care. They will write up an action plan to improve the patient experience, she said.
The hospital has implemented a targeted intervention plan over the past few months to reduce the number of patients on trolleys while awaiting admission to a bed, focusing on timely diagnostics and decision making and the timely discharge of patients.
To achieve this, the hospital had been approved to recruit seven patient flow coordinators, one "data analyst for the acute floor" and one medical social worker.
Management are also in talks to increase bed capacity with the Galway Clinic and the Bon Secours private hospitals.
This is a shortened preview version of this story. To read the rest of the article, and support our journalism, see the November 25 edition of the Galway City Tribune. There is also extensive coverage this week of plans for a new cancer Centre of Excellence and the latest meeting of the Regional Health Forum West. You can buy a digital edition HERE.
Shoplifting in Galway almost doubles as cost of living crisis takes hold
From this week's Galway City Tribune – The rate of shoplifting in the Galway City has skyrocketed as the cost of living crisis takes hold.
At a public meeting of the City Joint Policing Committee (JPC) on Tuesday, it was revealed that the rate of theft from shops in the city had increased by 87% year-on-year.
Chief Data Analyst for the Galway Garda Division, Olivia Maher, said this was in line with a national trend.
"There is some thought that this is as a result of the cost of living crisis and the pressures that people are under as a result – we are seeing these trends at a national level," said Ms Maher.
She said that overall, property theft had begun to return to pre-Covid levels, with 1,264 incidents in the first 10 months of 2022 – a 50% increase on the same period last year.
"Property crime is beginning to reach pre-Covid figures and while it's up on last year, it's down 5% on the 2019 figure.
"Burglary is still trending below pre-Covid figures at 107 compared to 192 in 2019," said Ms Maher.
An increased awareness of fraud was resulting in a reduction in a number of categories, including accommodation fraud, something that typically affects the city's third level students.
This is a shortened preview version of this story. To read the rest of the article,  see the November 25 edition of the Galway City Tribune. You can buy a digital edition HERE.