Galway midwives set the standard
The midwives of University Hospital Galway believe they know how to improve maternity services for women of this county and beyond.
And they are awaiting the outcome of the new National Maternity Strategy currently being finalised in the hope that it will back them up.
"We are really hoping midwifery-led care will become the norm for all low-risk pregnancies," explains Jennifer Duggan, clinical midwife manager at UHG. Last year 38% of women who delivered at the Galway unit came through the midwives' clinics – staffed by just six women, one of them working part-time.
If there was a change of focus, there would need to be a change of resources to expand services run by the midwives.
The Minister for Health Leo Varadkar announced last April the appointment of a steering group to prepare a new National Maternity Strategy that will "put the needs of mothers, babies and their families at its centre".
Maternity services have been under the spotlight like never before.
Horrific stories have served to undermine the confidence of pregnant women, some of them all too close to home.
The death of Savita Halappanavar at University Hospital Galway in 2009 sparked an international outcry and an avalanche of reports. The deaths of a number of babies at Portiuncla Hospital – with others left seriously deprived of oxygen – is currently the subject of an independent investigation. Publication of the report into "twelve adverse perinatal events" between 2008 and November 2014 at the Ballinasloe facility has been delayed until the end of the year at the earliest.
There are currently five antenatal clinics being run outside of the city, in Tuam, Oughterard, Doughiska, Gort and since last month Athenry.
While the two scans for public patients – one at twelve weeks to give an accurate due date and between 18 and 22 weeks to detect anomalies – are still carried out at UHG, all other checks can be carried out in the community.
In 2014, 499 women had their antenatal care in the community, reducing stress levels of pregnant mums trying to beat traffic and find scarce parking in a jammed packed city campus.
They also get the opportunity to see the same midwife all through term, at an allotted time and in the more relaxed atmosphere of a country clinic. They often feel more able to discuss pressing concerns around their new arrival and become educated about what to expect, reveals Jennifer.
It has the added advantage of taking the pressure off the unit at UHG and frees up consultants to see women with complications.
The early transfer home service allows women who have had a problem-free birth to be discharged within hours of the baby being born and getting all postnatal care in the comfort of their homes.
So instead of being crammed in a six-bedded ward with screaming babies and exhausted mums, they get to sleep in their own beds, eat home-cooked food while a pair of midwives visit them at home for up to five days after birth, giving advice, support, feeding tips and all the usual tests carried out in the maternity ward.
The scheme when it first started off in 2009 had around 9% of eligible women taking part. Last year 398 women were cared for at home – out of 2,900 deliveries.
It still only operates in the city and parts of Oranmore and Claregalway.
Extensive research backs up the case for midwifery-led care.
Trials on more than 16,000 women found that women who receive continuous care from midwives throughout pregnancy and birth fare better than women cared for by a combination of obstetricians, GPs and midwives.
The study carried out by NUI Galway and three British universities and published in the Cochrane Library in 2013 found that those cared for by a small group of midwives throughout pregnancy were less likely to give birth pre-term and required fewer interventions during labour and birth than those whose care was shared.
Women under midwife-led support were found to be happier with the care they received, had fewer epidurals, fewer assisted births and fewer episiotomies. They were "no more likely" to have a Caesarean birth, but were in labour for about half an hour longer on average. Women at low risk and high risk of complications participated in the study.
Ireland differs from countries such as Britain and Australia where midwives are the main providers of care to pregnant women. Here 95% are booked directly into the care of a consultant obstetrician.
"Hospital care in Ireland is obstetric-led in practice and policy and includes many routine interventions which increase distress to babies in labour and increase the risk of adverse effects on women, for example higher rates of induction, amniotomy (breaking the waters), epidural analgesia and use of oxytocin," according to Jene Kelly from the Association for Improvements in Maternity Services (AIMS Ireland).
"Some practices may not be routine for every woman, but are frequently in use despite risks. For example recent research by the American College of Gynaecologists has shown the use of oxytocin – for induction of labour or to 'speed-up' labour – poses an independent risk to babies and increases neonatal intensive care admissions."
Minister Varadkar acknowledged there was a clear need to provide reassurance in terms of safety, quality and choice.
There was a 22 per cent rise in the number of maternal deaths in 2010-2012 – making it higher than in the UK, according to the Confidential Maternal Death Enquiry.
In the same period, the birth rate here has also increased dramatically – by approximately 30% from 2000 to 2012, with the greatest number of births recorded in 2009. In Galway the peak birth rate was in 2008 when 3,600 babies were born.
According to a recent opinion piece by consultant obstetrician and gynaecologist at the National Maternity Hospital Dr Peter Boylan, the recommended midwife to patient ratio is 1:30, the recommended consultant to patient ratio is 1:350.
Consultant numbers would have to almost double to achieve the recommended level, while an estimated 600 additional midwifery posts are needed to achieve the ratio.
Galway City centre streets to be dug up – yet again
From this Week's Galway City Tribune – Just days after the annual tourist season kicked off with the St Patrick's weekend festivities, an area of the city's main throughfare is to be dug up yet again.
The City Council confirmed this week that "upgrade works" at the junction between High Street, Shop Street and Mainguard Street are to commence next week, drawing the ire of local business people and residents.
One local councillor and businessman said the works, which brought huge disruption while being carried out on other stretches of the route in recent years, should have been carried out while footfall was lower in January and February.
Cllr Níall McNelis told the Galway City Tribune that business people in the area were outraged at the news, and despite assurances from the Council that the works would be done "without major disruptions", bitter experience has taught them otherwise.
"They're outraged, to be blunt. They just can't believe this is happening now," he said.
"Everyone understands that these works are necessary, but this is going to take weeks out of what should be one of their busiest times."
Works in the area were left incomplete as a result of the visit of Britain's Prince William and Catherine in 2019.
In a statement issued by the Council, Director of Services Patrick Greene said the works should be "substantially completed by early June".
This is a shortened preview version of this story. To read the rest of the article, see the March 24 edition of the Galway City Tribune. You can support our journalism and buy a digital edition HERE.
What a melt: proposed bylaws put 20-minute limit on ice cream vans in Galway!
From this week's Galway City Tribune – Ice cream vans will only be allowed to sell to the public for 20 minutes before being obliged to move on to a different location if proposed new bylaws for casual trading in Galway are adopted.
The 2023 regulations to replace the 2011 bylaws will also outlaw any single use plastic products to be given out or sold by stall holders, including bottles, cutlery, containers, single use sachets, plates and straws. Compostable or reusable alternatives must be used instead of single use plastics.
The maximum time that the ice cream mobile unit can be stationary at any one location is 20 minutes.
Traders will avoid huge cost increases seen elsewhere – it will cost €267.50 annually per bay for Eyre Square (up marginally from €250). In St Nicholas' Market it will be €69.50 per linear metre – generally equating to €139 for regular size pitches, an increase of €9.
Stall holders will again have to buy a separate licence to trade on Sundays and for the market Wednesday to Friday in July and August. But they will be able to set up shop for free at Christmas if they hold a licence for Saturday or Sunday.
This is a shortened preview version of this story. To read more on the draft Casual Trading Bylaws, see the March 24 edition of the Galway City Tribune. You can support our journalism and buy a digital edition HERE.
€450m Emergency Dept and Women and Children's block at UHG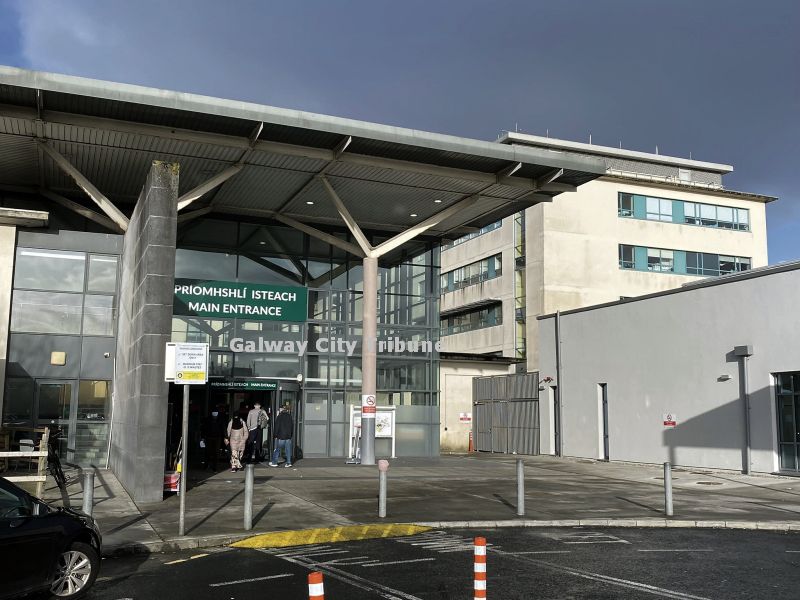 From this week's Galway City Tribune – Inadequate resuscitation capacity and overall space, as well as isolation from ICU, diagnostics and theatres along are part of the HSE's rationale for building a new €450 million Emergency Department and Women's and Children's block on the grounds of UHG.
The health authority is hoping the new development could commence construction in 2026 and be completed in early 2029, and the Galway City Tribune has learned it would have operational costs in the region of €40 million per annum.
According to the HSE, the existing Temporary Emergency Department – which opened its doors last October – there is inadequate space for the 70,000 attendances each year.
This includes "a lack of facilities for isolation, mental health, gynaecology, limited paediatric ED accommodation with significant resuscitation capacity to meet emergencies and trauma", HSE documentation reads.
The ED has also fallen well short of national targets for Patient Experience Time – that 95% of all patients should be see or admitted or discharged within six hours and 100% within nine hours.
In UHG, the figures for 2020 were 13% and 44% respectively, due to what the HSE describes as "sub-optimal infrastructure, design and consequently poor patient flow and capacity limitations".
The HSE also noted the existing Women's and Children's services operate from "poor quality, mainly single-storey buildings from 1950s and 1960s dispersed across the site with no direct access to the ED, isolated from vital healthcare services such as critical care, diagnostics and theatres".
Theatre capacity was described as "inadequate" for UHG's catchment of around 323,000 people from Galway, Mayo and Roscommon. The population for the wider Saolta University Healthcare Group, for which UHG is the tertiary or specialised care hospital, is estimated at 830,000.
The HSE said the new building would allow for a dedicated paediatric ward, adolescent beds (up to 16th birthday) and ambulatory facilities, "located closer to the critical medical infrastructure of the hospital".
This is a shortened preview version of this story. To read the rest of the article and for details on the cause of a "foul odours" problem on the hospital grounds, see the March 24 edition of the Galway City Tribune. You can support our journalism and buy a digital edition HERE.