Galway journalist launches new book on life of Big Tom
Back in 1967, as a young teenager making the daily trek to Tuam Vocational School, known to everyone at the time as 'The Tech', Tom Gilmore first started listening to Irish country music legend Big Tom when he topped the Irish charts with his first hit Gentle Mother.
Little did Tom Gilmore realise at the time, that just over 50 years later, he would be the author of the book that would chart and chronicle the life of a man who left an indelible mark on the Irish music scene through close on six decades.
The seed for the book, Big Tom, The King of Irish Country, was sown over a year ago when Big Tom McBride was still alive, although in ailing health, when the O'Brien Press contacted Tom Gilmore about the possibility of such a project.
For one reason or another, it wasn't followed up on at the time, but in early May, shortly after Big Tom had passed away, the call came again from Michael O'Brien, MD of O'Brien Press, with the request to write the book – 60,000 words required (it actually ended up at 63,000 words).
"I suppose that it was a bit daunting but it was a great honour too as over the years I had become great friends with Big Tom and his family. One of the things that made it possible for me on a practical level was the fact that I had retired so I could throw myself full-time into the job," Tom Gilmore told the Connacht Tribune.
About eight of nine years previously, Tom Gilmore had done a two-hour radio special with Big Tom for Galway Bay FM and as luck would have it, in a trawl through the attic, he unearthed two 'mini-discs' with the contents of those interviews and that was a great start.
While Tom Gilmore might have listened to Gentle Mother on the radio back in '67 he was still a couple of years too young for the dancehall scene but on a Saturday night in 1969 he eventually made it to the Sound of Music in Glenamaddy (under the stewardship of the late Joe O'Neill), and from there on he was 'hooked'.
Back around 1973, Tom Gilmore along with Michael Lyster, now of RTE, started up the Music Scene column in the Tuam Herald, and as the few bob 'started to be made' the Morris Minor was bought and the regular weekend treks followed to carnivals and dancehalls around the county.
Around the mid-70s, Tom and five of his mates made the trip to Castleblayney to the Embassy Ballroom (since demolished and now the Glencarn Hotel) for a country music festival, featuring Big Tom of course – 40 years later the 'same gang' visited Big Tom at his Oram home in a sentimental re-enactment of more innocent times.
"As always we got a great welcome from Big Tom and his family. I went over the to piano and when Big Tom came into the room, he said to me that he could have given me a job years back.
"But it was always a lovely house to visit. He was a most decent man and he always made visitors feel most welcome – trips to Big Tom's home in Oram were always very special," Tom recalls.
Since Big Tom passed away last April and the book project was settled upon, Tom Gilmore had more trips to make up North, garnering anecdotes as well as bits and pieces of trivia from the singer's family and friends, including Margo, ex-band members with the Mainliners band, his manager Kevin McCoey and Big Tom's brother-in-law Paddy King.
"I suppose the first two to two-and-a-half months of the project were spent in gathering all the pieces of information that I needed to write the book. After that, it was a matter of deciding on the format and how the chapters would pan out, and then of course just keeping the head down and writing it," said Tom Gilmore.
The end result is quite an exceptional product, beautifully produced and laid out by O'Brien Press, divided into 12 chapters dealing with Big Tom's roots and early years; his Gaelic football career (he as an avid GAA man); emigration to London; family loves and tragedies; and of course his life and times as one of the country's top entertainers.
At heart, Big Tom was a country boy who loved to sing, follow the GAA and drive his tractors, but primarily he was the man, who night after night, through late 1960s, '70s, '80s and 90s, drew thousands and thousands of people to halls and marquees in all corners of Ireland.
Songs like Gentle Mother, I Love You Still, Lonesome at Your Table, Broken Marriage Vows, Four Country Roads, My Donegal Shore and the Going Out The Same Way You Came In, are just some of the many songs that will resonate with people across the nation.
His passing led to President Michael D. Higgins making the journey to Oram for the wake where he met with the McBride family and paid a touching personal tribute to the influence of Big Tom, not just in Irish musical circles but on Irish society.
Johnny McCauley was the man who penned many of his greatest hits, and as Tom Gilmore points out, many people mightn't realise that Big Tom was probably the first Irish artist – back in the early 1980s – to go to Nashville and record a full original album, written by Johnny McCauley and called Blue Wings
Another little titbit about Big Tom is that one of the singers and bands that he loved was Mick Jagger and the Rolling Stones (who in their time, believe it or not, have done a selection of country songs). Rumour has it, according to Tom Gilmore, that Mick Jagger got an autograph from Big Tom many years ago when the pair met!
On a more serious note, Tom Gilmore, is happy that the Big Tom book is complete – it was officially launched last Saturday at the Íontas Theatre in Castleblayney – and he hopes that it will be a lasting tribute to a man whose name is known across every nook and cranny throughout Ireland.
"It was a labour of love and a great honour to write this book about a wonderful singer who touched the hearts of people all over Ireland for over half a century. I always regarded him as a great friend, and like so many more people around Ireland, I will miss him a lot," said Tom Gilmore.
■ Big Tom The King of Irish Country, written by Tom Gilmore, is a hardback published by The O'Brien Press available at all good bookshops retailing at €20.
One of Galway oldest residents celebrates 104th birthday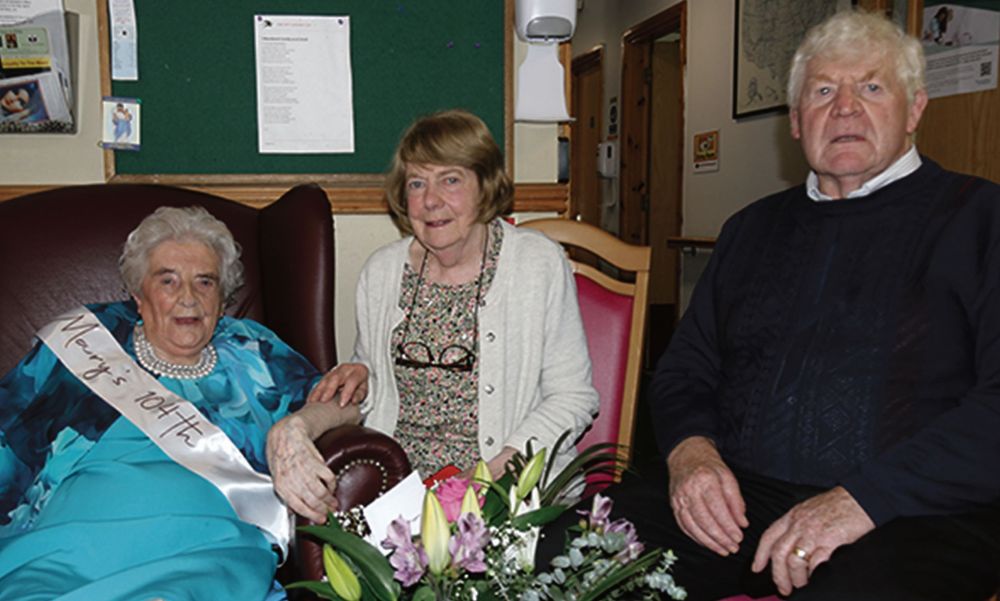 One of Galway's oldest residents celebrates her 104th birthday last week – with her zest for life as healthy as ever!
Mary O'Leary has lived at the Little Flower Nursing Home, Labane, Ardrahan, for the past twelve years, and she was joined by family and friends there for her special day.
Little Flower proprietor Joan Gardiner Surman revealed that the sprightly centenarian still likes to keep up-to-date with current events – not to mention a dollop of celebrity gossip!
"Mary is an avid reader; she loves thrillers and romance," said Joan.
"She keeps herself informed by reading the daily paper and loves Hello magazine, she has a huge interest in the Royal family."
Born Mary Quinn on May 23 1919 in Ballinlisheen, Tubber, Co. Clare to John Quinn and Mary Kate McKague, Mary never saw her father as he passed away before she was born – leaving her an only child.
She attended Boston National School and Gort Secondary School, and from a young age, she on the family farm.
Mary married her husband Joe O' Leary in Tubber Church in 1948, and they lived in Ballinlisheen until Joe passed away in July 1997.
Mary then relocated to Gort town, and subsequently moved to the Little Flower Nursing Home, Labane, Ardrahan on October 14 2011 where she has had a very fulfilled few years.
She celebrated her birthday in the Little Flower Nursing Home Tuesday, May 23, surrounded by her family, the wonderful staff who take such great care of her, and all the residents of the Little Flower.
She had a wonderful party with local musicians Peter Gardiner, Pat O'Neill and Vincent Mullins providing the entertainment.
And Mary also received a lovely letter of congratulations from President Michael D. Higgins along with a beautiful commemorative medal.
(Photo: Mary O'Leary celebrates her 104th birthday with her cousin Pat Lahiff and his wife Noeleen from Peterswell).
Database will provide permanent insight into Galway's cultural history
A major audit of oral recordings of stories, family histories and memories is being undertaken in East Galway – to preserve them for future generations before reels and cassettes are lost forever.
A similar exercise in Donegal yielded 4,000 items for their database. One in Kilkenny has uncovered 1,000 recordings.
Led by oral historian Dr Tomás Mac Conmara, the first phase of the project will not seek to collect the items but rather record what is out there, who is preserving it and whether it is accessible to the public.
A later stage will extend the database across Galway.
No recording is too insignificant to be part of the Audit of Oral Heritage Recordings in East Galway, insists Tomás.
"If there is a recorded memory of a family member, we'd urge you to make contact with us. If you have a 95-year-old woman in the 1980's talking about her childhood, that's so valuable," he says.
"It contributes to our understanding of life in her area, it may have relevance to other farming communities in say County Derry, it can have an entirely different interest to someone in a different community."
The project is also open to those not living in East Galway but they may have a family member who once came from there. Contact from members of the Galway diaspora are very welcome.
Now is the time to identify what has been created, particularly with reel-to-reel recordings and those on cassettes before they become unplayable and obsolete, he explains.
"If you have a box of tapes, there may not be a lot of information about what's on them. We have all the equipment to listen to all file formats so we can help people and community groups to sort through their material."
The brainchild of Galway County Council's Heritage Officer Marie Mannion, the project will work with community groups, historians, and collectors either online or in their communities to document what has been saved.
The stories, memories and folklore will be collected by October and the list will be available to the public online.
The audit will help to identify priorities for future recording work, according to Marie Mannion.
"We would really appreciate people's help in identifying oral history recordings or collections held by community groups and individuals so that we get as complete a picture as possible as to the current volume and extent of recordings," she stated.
It will likely be a significant resource for historians, scholars, the education system as well as the general public.
For information contact Mac Conmara Heritage Consulting on 087 916 073 or by email at macconmaraheritage@gmail.com.
EV charging points in County Galway falling well short of requirements
Access to electric vehicle charging points across the county is falling massively short of requirements.
The matter was subject of a heated debate during last week's meeting of Galway County Council – with some councillors claiming that there was only one public EV charging point along a 50 mile stretch.
But Chief Executive Liam Conneally told councillors that while the process was slow to roll out, a three-phase electrical supply would be provided at strategic locations.
He said that the Council would be discussing a strategy for the provision of EV points with the Department of Local Government and would be accepting submissions from the public.
Mr Conneally also confirmed that there would be a public consultation in advance of the roll-out of the charging points.
A clearly frustrated Cllr Alastair McKinstry (Green) said that information had been sought regarding the locations and number of EV points across County Galway but that this was not forthcoming.
He said that councillors needed to come forward with a list of locations where they feel charging points should be located before any strategy is adopted by Galway County Council.
The Connemara Area councillor said that the public had accepted the challenge to change over to electric vehicles but that this should have been met with an appropriate number of charging points.
"We are not being told how many charging points there will be or where they will be located. In fact, information is in very short supply.
"In order to avoid there being black spots around the county, the Council has an obligation to ensure that funding is provided to ensure that there will be a sufficient number for motorists to avail of," added Cllr McKinstry.
Cllr Eileen Mannion (FG) said that there was only one EV charging point between Clifden and Galway city and asked that this situation be improved if motorists were to be encouraged to change over to electric.
"In the Connemara area we are way behind when it comes to charging points," the Clifden-based councillor added.
Cllr Andrew Reddington (FG) said that charging points were being provided by private businesses, mainly supermarkets, but added that the Council should not be relying on this sector to do their work for them.
Director of Services Derek Pender said that it was easy to understand the frustration involved in this process, but the Council were addressing the situation as quickly as they could.
He said that the ultimate aim was for a zero emissions Ireland, but he stressed "we are not trying to ram this down anybody's throats".