Conman duped woman (82) into giving him large sums of money
A convicted sex offender faces prison later this year for coercing a trusting and charitable 82-year-old woman into giving him large sums of cash over a twelve-month period.
Ethan Ward (25), 27 Lui na Greine, Western Distributor Road, Salthill, is currently serving one year or a two-year prison sentence, imposed on him on May 12, for having sex with a vulnerable 16-year-old schoolgirl in a fast-food restaurant toilet.
Ward pleaded guilty at Galway Circuit Criminal Court two weeks later to inducing the elderly woman to give him €1,630 cash on dates between April and December 2015.
He pleaded guilty also to stealing a €1,000 cheque from the woman and lodging it in his own account on a date between January 2015 and January of this year and to inducing the woman to give him a further €250 on January 8 last.
He further pleaded guilty to inducing the woman to give him €90 cash on January 6 last.
The theft and fraud offences were committed while Ward was out on bail, awaiting sentence for the sexual assault on the schoolgirl.
Prosecuting barrister, Conor Fahy said the pleas to the above charges were acceptable on the basis that Ward was admitting his guilt to three other similar charges of deception.
Sentence was adjourned to this week for the preparation of a probation report on Ward and a impact statement from the victim.
The court heard Ward had not bothered to attend his probation appointments in the prison, so he could not be assessed.
Garda Karen Higgins told the sentence hearing on Wednesday it would never be known exactly how much money Ward took, but the woman had estimated it was at least €3,000.
She said the woman made a complaint to Gardai on January 19 last that she had been giving money to a man for a year and she had just realised he had been lying to her about his circumstances.
The woman first encountered Ward begging outside various churches around the city a year ago and he told her his name was Ethan O'Leary and he needed money to stay in hostels.  She took pity on him and gave him money on a few occasions.
He then turned up at her home in Salthill and she was concerned about that because she had not told him where she lived.
Garda Higgins said the victim was a very kind person and she felt sorry for Ward.  She regularly gave him money when he called to her home and if she did not have any cash in the house, Ward would accompany her to the ATM machine, walking a few metres behind her.
"She used to give him cups of tea and things to eat when he'd call to her home.
"As it went on, she felt pressured into giving him money and he started calling more regularly to her home," Garda Higgins said.
The woman wrote a cheque to "Ethan O'Leary" on one occasion and her suspicions were aroused when it was never cashed.
She went with food to a hostel where Ward told her he was staying, but staff said no one named O'Leary was staying there.
The woman finally confided in her local priest and the Gardai were contacted.
Garda Higgins said that on a previous occasion, Ward stole a blank cheque from the woman while in her house and later cashed it, to the value of €1,000.
Ward was arrested outside the woman's home last January.  She had refused to let him in but he came in and she told him to get out.
A roll of duct tape and three wire coat hangers were found when Gardai searched Ward's rucksack.
"He never showed any remorse and he denied defrauding this 82-year-old woman. She's too scared to come to court," Garda Higgins added.
The woman's victim impact statement said she goes to Mass every day and contributes generously to various charities.  She said she always saw the good in people.
"She knows she gave him a lot of money and she feels very gullible.
"He always had a story she believed.  She didn't know at the time that he was a con artist and a criminal.  She thinks she may have given him €3,000.
"She now finds it hard to trust people and is more cautious answering the door," Garda Higgins said of the woman.
The court heard Ward was using the money to feed his €100-a-day heroin addiction. Before that he was living off his wife and two children's welfare allowances.
Garda Higgins said he had 19 previous convictions, the latest being for defilement of a child for which he was currently serving one-year of a two-year sentence imposed in May.
He had other convictions for thefts, burglary, possession of drugs, knives and public order offences.
Defence barrister, Conal McCarthy said his client had been in custody since his arrest on January 20. He said Ward feared for his life in Castlerea Prison and was on 23- hour lockdown for his own safety.
He said that was the reason his client could not attend probation appointments in the prison. He had asked to be moved to the Midlands Prison and his transfer was granted last month.
Judge Rory McCabe said the maximum sentence for the crime of deception was five years, while the maximum for theft was ten.
He said the deception charges before the court merited a three-year sentence while the theft of the cheque merited five years.
"This man engaged in a nasty campaign of milking money from this lady and she eventually became afraid not to give him money," the judge said.
Judge McCabe noted Ward had previous convictions for crimes of dishonesty while his victim was vulnerable, decent and defenceless.
He said the court had been given a excuse why Ward had not bothered to attend the probation officer in Castlerea Prison for assessment, but it would now give him a chance to do so while in the Midlands Prison.
The judge then adjourned the matter to October 6 for the probation assessment to take place and he directed a probation report be furnished to the court in October.
Gardaí in Galway operating with fewer patrol cars
Five large Garda stations in County Galway are operating with fewer Garda vehicles now than two years ago – leading to a call for the local fleet to be restored to 2020 levels.
Minister for Justice Helen McEntee has confirmed to Galway West TD Noel Grealish that the Garda fleet in the Galway Garda Division stands at 116 as of October of this year.
That's greater than any of the years from 2012 to 2019, but it represents a reduction on the Garda fleet when compared with 2020 and 2021 figures.
Galway Gardaí had a dozen fewer vehicles this year, compared with 2020. There are 13 fewer patrol cars, down from 96 to 83; there was no change in the number of vans and motorcycles, and the division acquired one extra 4×4.
Garda stations in Ballinasloe, Loughrea, Tuam, Clifden and Salthill have all lost patrol cars in the past 24 months, according to the official figures.
Independent Deputy Grealish has demanded a restoration of the Garda fleet in Galway to 2020 levels.
"Gardaí have a demanding enough job to do, but it makes that important work even more difficult if they are not allocated the proper resources," Deputy Grealish said.
"A reduction of twelve vehicles in less than two years across the Galway Division, down from 128 at the end of 2020 to 116 in October this year, is concerning.
"I have asked the Minister for Justice to explain why this has happened, that the number of vehicles in the Galway Division has fallen by ten per cent, when nationally the total fleet actually increased by 6%. I am demanding that they at the very least be restored to their 2020 levels," he said.
Deputy Grealish pointed out that almost all areas of the county had suffered a reduction in Garda vehicles since the beginning of last year.  Ballinasloe currently has six vehicles, a reduction of two since the end of 2020; Clifden also has six, down one; Loughrea was down three to eleven; Salthill was down three to ten; the biggest reduction in Garda vehicles was in the Tuam area down five to twelve.
Galway City's fleet increased by two vehicles, for a total of 71.
Minister McEntee said that the Garda Commissioner Drew Harris was responsible for the administration and management of An Garda Síochána, including the purchase, allocation, and effective and efficient use of Garda vehicles.
"As Minister, I have no direct role in these matters. I am assured, however, that Garda management keeps the distribution of resources under continual review to ensure their optimum use in light of identified operational needs and emerging crime trends," she added.
Galway City Councillor Donal Lyons (Ind) last month complained that the number of vehicles available to Gardaí in Salthill and Knocknacarra was insufficient.
Renters paying €12,000 more per annum in Galway City than ten years ago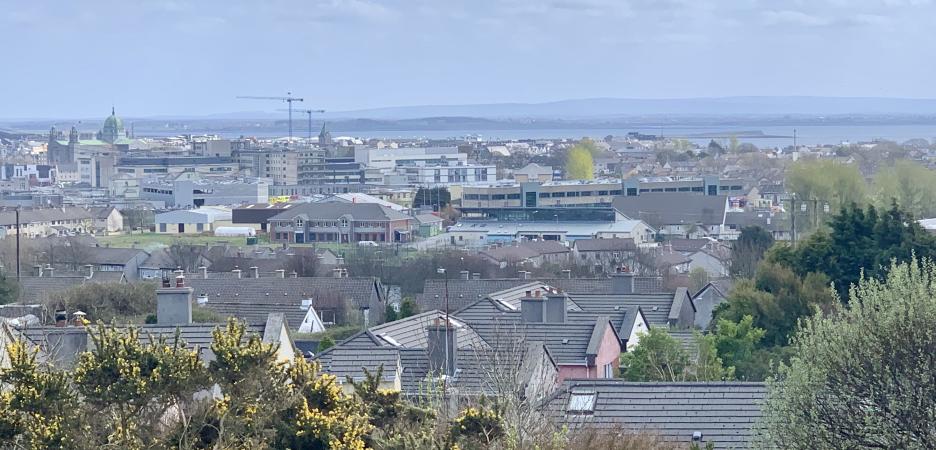 People living in private rented accommodation in Galway City are paying, on average, around €12,000 more per annum than they were a decade ago.
New research from property website Daft.ie has found that in the past year, average rents in the city have increased by 16.4% and now stand at €1,713 per month.
Meanwhile, the Dáil was told last week that the situation in the rental market in the city is "horrendous".
According to the figures published this week, rents in the city have increased by a whopping 145% since the bottom of the market in early 2012, when they stood at an average of around €700 per month.
Nationally, the increase was 14.1% year on year, or 4.3% between June and September (the figure was 3% for Galway City).
Economist Ronan Lyons of Daft.ie said that the last ten quarterly reports from the website have recorded new all-time highs for average rents.
He said that in the past 18 months, there has been an "extraordinary collapse" in the stock available to rent in Ireland.
Speaking at the Oireachtas Select Committee on Finance last week, Galway West TD Mairéad Farrell said Sinn Féin had long been calling for tax credits, but these needed to be in tandem with a freeze on rents.
"My concern is that if the Government does not introduce a rent freeze, this measure will put further pressure on families and individuals who are struggling to pay for their accommodation. Many renters feel there is no end or hope in sight. To be perfectly honest, I have never seen the housing crisis in Galway as bad as it is now.
"Galway is the place I can best reference and there is little rental property available in Galway. There is concern that this will add to the pressure that people are already facing if a rent freeze is not also introduced," she said.
Finance Minister Paschal Donohoe responded that in the Budget he had announced a €500 rent credit, specifically for those who do not receive other housing supports from the State.
"I also acknowledge that too many people are paying too much of their income in rent," he said.
The Minister added that in Berlin, where rent freezes were imposed, the volume of new rental accommodation available had decreased, and he contended the same would happen in Ireland.
Deputy Farrell said: "Myself and the woman who works with me in my local office are at our wits' end. Today we had a conversation about how to tell people coming to us that the council can do nothing because there are no rental properties and there is nowhere for people to go.
"That is a position that we have not seen ourselves in since I was elected. I am talking about the period since 2014. Things are getting worse."
According to the Daft.ie report, average monthly rents for a one-bed apartment in Galway City stand at €1,142 (up 15% year on year); €1,333 for a two-bed house (up 13.7%); €1,594 for a three-bed house (up 16.2%); €1,948 for a four-bed (up 17.7%) and €1,959 for a five-bed (up 2.7%).
For the 'rent a room' renters, a single bedroom in the city centre is costing an average of €572 per month (up 15.1% year on year) and €617 for a double room (up 13.4%). In the suburbs, single bedrooms and renting for €533 per month (up 20.3%) and €593 for a double (up 22.5%).
Progress stalls on setting up Eating Disorder Community Health Team
Despite an increasing number of young people experiencing eating disorders, a new specialist community team has yet to be set up in Galway well over a year after it was announced.
The delay is mainly due to a difficulty recruiting a consultant psychiatrist to lead the team, this week's HSE West Regional Health Forum meeting was told.
Councillor John Connolly (FF) queried the progress on the new Eating Disorder Community Health Team within the Child Adolescent Mental Health Service (CAMHS) after the HSE revealed in September 2021 that it would be set up in response to the hike in youths presenting for treatment.
Chief Officer of HSE Community Healthcare West, Breda Crehan-Roche, said interviews had been conducted to recruit a clinical lead, but so far none had been appointed. Six other staff had been appointed and these had been assigned to existing teams within CAMHS while a psychiatrist could come on board to manage the team.
"We have difficulty getting locum cover. Interviews were held. It's a priority. We are doing a running recruitment process," she told this month's meeting.
It took between six and nine months to appoint a person to such a senior post.
"There is a lot of work in specialist intervention in the eating disorders team."
She admitted that there were no records of how much of an increase there had been in referrals to CAMHS Galway for youths troubled by an eating disorder as all records were on paper rather than on computer.
"I can't ask clinicians and therapists to pull together manual figures," she stated. But the indication from staff on the ground was that there had been a downward trend in referrals post-Covid.
There was a move to keeping digital records by the middle of next year.