Cherish every moment; hug and kiss your loved ones every night
Last August, GERALDINE MULLAN (née Connaughton) endured an unfathomable nightmare, losing her husband and two children in a crash that she herself was lucky to survive. Here the Williamstown native writes of life since – and how the support of so many has helped her over the last three months.
My husband John was a fan of Bruce Springsteen. In normal circumstances he would be currently enjoying Bruce's latest album "Letter to You" and taking particular interest in the songs, especially the one entitled "House of a Thousand Guitars" (given John's love of that instrument).
But these are not normal days and instead it is me appraising the new offering from The Boss and taking poignant note of some of the other lyrical melodies on the album, particularly those entitled "One Minute You're Here" and "I'll See You in my Dreams".
These two songs in particular speak to my situation and have become musical reminders of my beloved departed, my husband John and our children Tomas and Amelia, who were cruelly taken from this world in late August of this year.
Since the tragedy unfolded, I have been surrounded by many wonderful people and wrapped up in their familial and communal embraces, all united in offering me solace, comfort, assistance and no end of love, understanding and compassion.
I stand each day and get through it, in no small part, due to the continuous support you provide to me.
Such is the outpouring and swell of sympathy and empathy alike, and many are the calls, messages, cards, letters, flowers, gifts, acts of service and human kindness which have reached my Moville doorstep, that I am truly overwhelmed, very much humbled and ever-grateful.
I am genuinely appreciative of it all and your love and caring has taken root in my heart and in my head. That being said, I am unable to respond to everyone individually, therefore this is my "Letter to You", my simple way of acknowledgement and sincere thanks.
You can read Geraldine's full, heart-breaking letter in this week's Connacht Tribune, on sale in shops now.
For more, read this week's Connacht Tribune.
Connacht Tribune Digital Edition App
Download the Connacht Tribune Digital Edition App to access to Galway's best-selling newspaper.
Click HERE to download it for iPhone and iPad from Apple's App Store, or HERE to get the Android Version from Google Play.
Or purchase the Digital Edition for PC, Mac or Laptop from Pagesuite  HERE.
Get the Connacht Tribune Live app
The Connacht Tribune Live app is the home of everything that is happening in Galway City and county. It's completely FREE and features all the latest news, sport and information on what's on in your area. Click HERE to download it for iPhone and iPad from Apple's App Store, or HERE to get the Android Version from Google Play
One of Galway oldest residents celebrates 104th birthday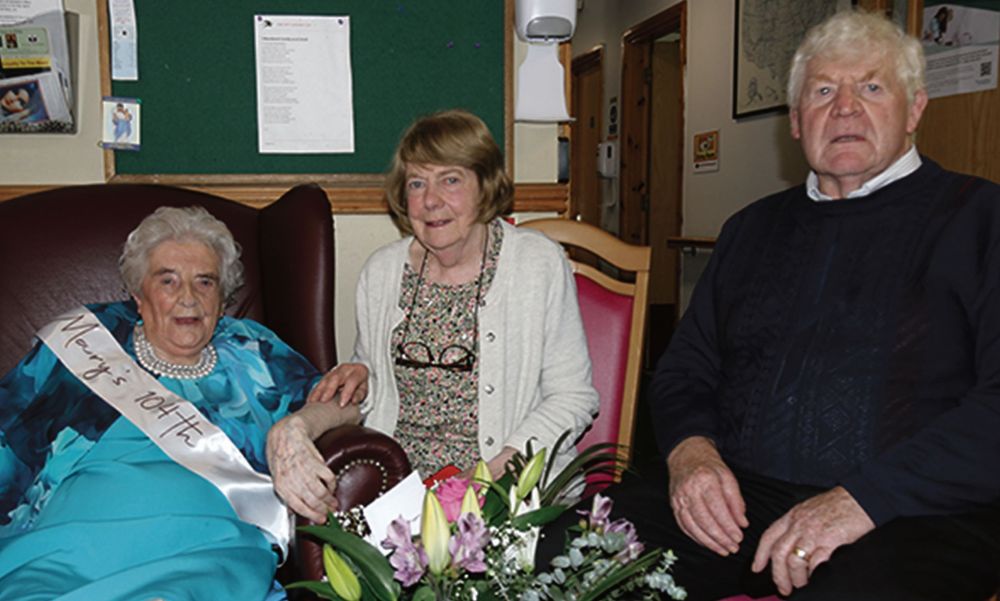 One of Galway's oldest residents celebrates her 104th birthday last week – with her zest for life as healthy as ever!
Mary O'Leary has lived at the Little Flower Nursing Home, Labane, Ardrahan, for the past twelve years, and she was joined by family and friends there for her special day.
Little Flower proprietor Joan Gardiner Surman revealed that the sprightly centenarian still likes to keep up-to-date with current events – not to mention a dollop of celebrity gossip!
"Mary is an avid reader; she loves thrillers and romance," said Joan.
"She keeps herself informed by reading the daily paper and loves Hello magazine, she has a huge interest in the Royal family."
Born Mary Quinn on May 23 1919 in Ballinlisheen, Tubber, Co. Clare to John Quinn and Mary Kate McKague, Mary never saw her father as he passed away before she was born – leaving her an only child.
She attended Boston National School and Gort Secondary School, and from a young age, she on the family farm.
Mary married her husband Joe O' Leary in Tubber Church in 1948, and they lived in Ballinlisheen until Joe passed away in July 1997.
Mary then relocated to Gort town, and subsequently moved to the Little Flower Nursing Home, Labane, Ardrahan on October 14 2011 where she has had a very fulfilled few years.
She celebrated her birthday in the Little Flower Nursing Home Tuesday, May 23, surrounded by her family, the wonderful staff who take such great care of her, and all the residents of the Little Flower.
She had a wonderful party with local musicians Peter Gardiner, Pat O'Neill and Vincent Mullins providing the entertainment.
And Mary also received a lovely letter of congratulations from President Michael D. Higgins along with a beautiful commemorative medal.
(Photo: Mary O'Leary celebrates her 104th birthday with her cousin Pat Lahiff and his wife Noeleen from Peterswell).
Database will provide permanent insight into Galway's cultural history
A major audit of oral recordings of stories, family histories and memories is being undertaken in East Galway – to preserve them for future generations before reels and cassettes are lost forever.
A similar exercise in Donegal yielded 4,000 items for their database. One in Kilkenny has uncovered 1,000 recordings.
Led by oral historian Dr Tomás Mac Conmara, the first phase of the project will not seek to collect the items but rather record what is out there, who is preserving it and whether it is accessible to the public.
A later stage will extend the database across Galway.
No recording is too insignificant to be part of the Audit of Oral Heritage Recordings in East Galway, insists Tomás.
"If there is a recorded memory of a family member, we'd urge you to make contact with us. If you have a 95-year-old woman in the 1980's talking about her childhood, that's so valuable," he says.
"It contributes to our understanding of life in her area, it may have relevance to other farming communities in say County Derry, it can have an entirely different interest to someone in a different community."
The project is also open to those not living in East Galway but they may have a family member who once came from there. Contact from members of the Galway diaspora are very welcome.
Now is the time to identify what has been created, particularly with reel-to-reel recordings and those on cassettes before they become unplayable and obsolete, he explains.
"If you have a box of tapes, there may not be a lot of information about what's on them. We have all the equipment to listen to all file formats so we can help people and community groups to sort through their material."
The brainchild of Galway County Council's Heritage Officer Marie Mannion, the project will work with community groups, historians, and collectors either online or in their communities to document what has been saved.
The stories, memories and folklore will be collected by October and the list will be available to the public online.
The audit will help to identify priorities for future recording work, according to Marie Mannion.
"We would really appreciate people's help in identifying oral history recordings or collections held by community groups and individuals so that we get as complete a picture as possible as to the current volume and extent of recordings," she stated.
It will likely be a significant resource for historians, scholars, the education system as well as the general public.
For information contact Mac Conmara Heritage Consulting on 087 916 073 or by email at macconmaraheritage@gmail.com.
EV charging points in County Galway falling well short of requirements
Access to electric vehicle charging points across the county is falling massively short of requirements.
The matter was subject of a heated debate during last week's meeting of Galway County Council – with some councillors claiming that there was only one public EV charging point along a 50 mile stretch.
But Chief Executive Liam Conneally told councillors that while the process was slow to roll out, a three-phase electrical supply would be provided at strategic locations.
He said that the Council would be discussing a strategy for the provision of EV points with the Department of Local Government and would be accepting submissions from the public.
Mr Conneally also confirmed that there would be a public consultation in advance of the roll-out of the charging points.
A clearly frustrated Cllr Alastair McKinstry (Green) said that information had been sought regarding the locations and number of EV points across County Galway but that this was not forthcoming.
He said that councillors needed to come forward with a list of locations where they feel charging points should be located before any strategy is adopted by Galway County Council.
The Connemara Area councillor said that the public had accepted the challenge to change over to electric vehicles but that this should have been met with an appropriate number of charging points.
"We are not being told how many charging points there will be or where they will be located. In fact, information is in very short supply.
"In order to avoid there being black spots around the county, the Council has an obligation to ensure that funding is provided to ensure that there will be a sufficient number for motorists to avail of," added Cllr McKinstry.
Cllr Eileen Mannion (FG) said that there was only one EV charging point between Clifden and Galway city and asked that this situation be improved if motorists were to be encouraged to change over to electric.
"In the Connemara area we are way behind when it comes to charging points," the Clifden-based councillor added.
Cllr Andrew Reddington (FG) said that charging points were being provided by private businesses, mainly supermarkets, but added that the Council should not be relying on this sector to do their work for them.
Director of Services Derek Pender said that it was easy to understand the frustration involved in this process, but the Council were addressing the situation as quickly as they could.
He said that the ultimate aim was for a zero emissions Ireland, but he stressed "we are not trying to ram this down anybody's throats".