Boston's 'Connemara' Mayor is set for real Galway homecoming
Martin J. Walsh is a Connemara man in everything but place of birth – and the next week will show how strongly the 48th Mayor of Boston is embedded in his Galway roots.
"It's who I am" Mayor Walsh has said. "It is my heritage". And so he returns in triumph to the birth place of his parentsthis Friday where he will be welcomed as a native son.
And in a week of high emotions and celebration in Connemara, history itself will come into focus.
For joining Mayor Walsh in Carna as he lays the foundation stone for the Emigrants and Diaspora Centre will be former Taoiseach, Liam Cosgrave, who will be retracing his footsteps back to the spot where he went to school all of 84 years ago.
The old hall, which is to be incorporated into the Emigrants Commemorative Centre, was formerly a boy's school opened in 1887.
Liam Cosgrave and his brother Michael spent some months at school there in 1930; their father, W.T. Cosgrave, then President of the Irish Free State, wanted his two sons to get a grasp of native Irish.
They enrolled in March of 1930 and trooped to school with the local lads, sods of turf in hand and sometimes barefoot in the fashion of the times.
Liam Cosgrave and his daughter, Mary, confirmed this week that they will be making the journey back to Carna – and revisiting the former Taoiseach's childhood – as the old school building takes on a new lease of life for the future.
See full story in this week's Connacht Tribune.
Lackagh students' mini-boat sets sail in the South Atlantic
Spiorad na Gaillimhe, an uncrewed mini-boat built and decorated by students from Scoil Bhríde in Lackagh has set sail in the South Atlantic.
It is one of four miniboats – the others from schools in Spain, Germany and South Africa – that were deployed from the Alfred-Wegener Institute's Icebreaker, RV Polarstern, as it sails between Germany and South Africa.
These four new vessels will join the 18 Educational Passages boats that are currently sailing around the world's oceans. Spiorad na Gaillimhe (Spirit of Galway) is the first mini-boat to set sail in the South Atlantic.
School Principal Shane O'Connor and teacher Tomás Higgins were fundamental in ensuring the project was delivered.
Mr Higgins said: "The project was an engaging and great project for the pupils that's cross curricular in nature incorporating many skills and subjects such as science, maths, art and geography and gave us the opportunity to bring the theme of the ocean and ocean literacy into the classroom in a fun and interesting way.
"We were delighted in Scoil Bhríde to have this unique and great opportunity, thanks to the support of Sheena Fennell, University of Galway, POGO [Partnership for Observation of the Global Ocean] and Educational Passages, to participate in the Miniboat Programme.
"And I'm delighted that my colleague Aisling White will continue on working with our pupils during this academic year and she looks forward to following the journey of Spiorad na Gaillimhe and continuing the project with the pupils."
The project was funded by the Nippon Foundation and POGO and has provided the students in Galway with an opportunity to learn more about oceanography and ocean technology.
Professor Peter Croot and Senior Oceanography Technician Sheena Fennell from Earth and Ocean Sciences at University of Galway worked with the school throughout the process, delivering ocean experiments and guidance with the build.
Professor Croot said: "The students in Scoil Bhríde were responsible for constructing the boat, deciding on a name, decorating the sail and hull and, most importantly, had to decide what treasures to place in the hold for any lucky finder if it comes ashore.
"Once Spiorad na Gaillimhe sets sail it will regularly send its GPS location and values of sea and air temperature. The students will be working to predict where it will sail in the ocean by looking at weather and ocean current maps, thereby learning about our oceans."
You can keep up to date by searching 'Spiorad na Gaillimhe' on educationalpassages.org
Motorists urged to think twice about their parking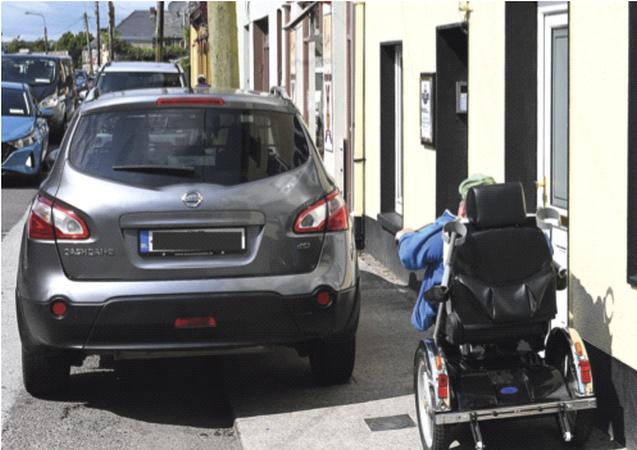 MOTORISTS around Galway have been reminded this week that careless parking on footpaths – or illegally taking up spaces allocated for disabled drivers – can cause untold hardship for people with disabilities.
'Make Way Day' is taking place this Friday when motorists will be asked to think twice before leaving their cars in 'obstructive positions' – cyclists who tie their bikes onto poles and railings are also being targeted.
And while Friday's campaign is essentially about awareness and respect, motorists have also been reminded of the severe fines that can be imposed for careless parking on paths or in disability spaces.
One of the campaign organiseers, Peter Gohery from Eyrecourt, said that parking in a disability parking space without the designated blue card carries a €150 fine while the penalty can rise to €3,000 if such a card is being illegally used by someone else.
"There are penalties in place for this kind of parking but first and foremost we want this to be an awareness and respect campaign.
"If, for example, someone with a disability is forced onto the public road because a car is parked on a path, this involves not only an inconvenience for the disabled person, but also a real danger," said Mr Gohery.
An amputee himself following a farming accident a number of years back, Mr Gohery said that awareness and common-sense by drivers could make a huge difference to people who suffered from disabilities.
"For example, a visually impaired person using a guide dog, can be forced off the path if a car is illegally parked there – we're just pleading with people to think twice before they park illegally," he said.
Dr Charlotte May, Galway Public Participation Network (PPN) Co-ordinator, said that Make Way Day was part of a national campaign ran by the Disability Federation of Ireland aimed at bringing people with disabilities and the wider community together.
"The day is meant to be a friendly reminder that cars parked on footpaths; bicycles illegally parked; and bins left on footpaths, all block the way and create barriers for people.
"Make Way Day is not about pointing the finger at local authorities, other agencies, or randomly scattered activism.
"The whole point of the day is making the public aware of an issue that is fully within their power to change. It's about one impactful, co-ordinated and decisive day of action," she said.
Make Way Day will be marked this Friday in Loughrea (Bridge Street carpark) at 10am and in Portumna (The Square next to St. Brigid's) at 12.30pm where obstacles on the paths and streetscapes will be identified and highlighted.
A similar type of event is also planned for Clifden between 11am and 1pm starting off from the Town Hall.
"The campaign brings the disability and wider community together to consider the needs of people with disabilities in the public spaces we all share.
"Everyone can get involved. And everyone should get involved because we've discovered thoughtlessness is the big issue," said Dr May.
Community fights back on hospital 'downgrade by stealth'
Raw emotion, sadness and some anger filled the air at Clifden Town Hall on Sky Road last Sunday afternoon as a shaken community gave honest, personal accounts of the impact the closure by stealth of Clifden District Hospital would have on the people of North Connemara.
The public meeting was hastily organised after fears emerged on Friday that the HSE may transfer respite services from Clifden to Merlin Park Hospital, 50-plus miles away in Galway City.
Families were told their loved ones in Clifden Hospital may have to move home, or go to Merlin Park the following Monday, due to 'issues with staffing'.
An axe has hung over Clifden Hospital for some years, but this latest move stirred the community to fight back to retain services locally.
Galway County Councillor Eileen Mannion (FG), who organised the public meeting with Senator Sean Kyne, said 625 people signed the attendance sheets and an estimated 650 people attended.
"The community effort spreading the word was unbelievable; the turnout was unbelievable," she said.
"It wasn't just anger; it was raw emotion in the room. Sadness. Family members spoke about the calls they got on Friday. The feeling that their elderly person was being rejected; that they weren't being respected.
"One man stood up, three years waiting for respite care for a family member, and then to be told after a few days in there that she'd have to be taken home or to Merlin Park.
"We're 50 miles from Galway. If there's no traffic you might get to the outskirts in an hour but with the traffic in Galway, you could be another hour to get to Merlin Park. Not everyone has transport either and they've to rely on buses.
"A young woman stood up at the meeting and said her dad was dying in Galway. And she had to go to Saint Vincent de Paul to get money to pay for a B&B so that the family would be close to him when the end came. People gave their personal stories, and it was just heart-breaking."
(Photo by Carmel Lyden: Teresa Conneely from Roundstone addresses people at the public meeting in Clifden Town Hall).
This is a shortened preview version of this article. To read extensive coverage of the Clifden Hospital story, see this week's Connacht Tribune. You can buy a digital edition HERE.